Spotlight: Family Law Specialist Brian W. King
What led you to become a lawyer?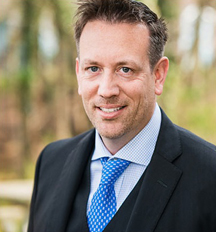 In addition to my early experience as a juror, I was fortunate to have incredible mentors throughout my journey. This included Grady Franklin, my debate coach from Chase High School in Rutherfordton who gave up his own personal life to take high school students all over North and South Carolina. He gave me hope of a higher education, and ended up landing me a scholarship to UNC-Charlotte.
What made you decide to pursue certification?
I am a huge believer in the concept of continual improvement. Going through the process of studying and then taking of the exam allows an attorney to focus on their profession. I see it much the same way I see teaching continuing legal education classes.  I also owe much to Jacob Erhmann in Asheville, who took the specialization exam before me. He gave me lots of encouragement and tips.
Why have you continued to maintain certification since 2009?  
Once I earned the certification in 2009, recertification was not difficult. It allows me to dialogue with my judges and fellow attorneys—and to encourage many of them to seek certification as well.
What are your hobbies?
I love to travel. I am packing bags today for another trip to my favorite city, Barcelona. I think living in a small town may be a part of that love.
What activities/volunteer groups are you involved in?
I am president of Rutherford Life Services, whose mission is to care for the most needy parts our of communities: children, disabled, and elderly. I serve as vice-president of KidSenses Museum in Rutherfordton, the best little town museum in the world! I am also on the Board of Elections, and mentor for Robert McNair's Foundation (owner of the Houston Texans, and a proud son of Rutherford County).
Who is your role model and why?
I would like to have the heart of Gandhi, the spirit of Washington, the wisdom of Lincoln, and maybe a closing argument like John Edwards. However, I would settle to just be Bruce Wayne by day and Batman by night!