Spotlight: Trademark Law Specialist Rebecca Crandall
What is most challenging about your work?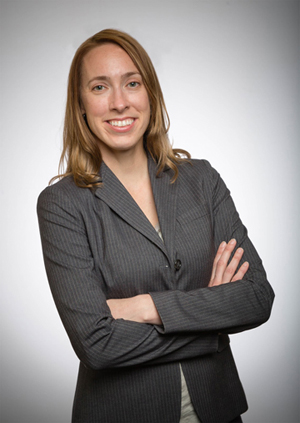 I'd say the most challenging part of my job relating to trademark work is education. Some potential clients have a hard time understanding that it's much less expensive to understand and protect their trademark rights up front than to step into a not so great situation later on. If they choose a generic name for their business, they simply aren't going to be able to avoid their competitors using the same term to describe their own businesses.
What is fun about your work?
Education! As difficult as it is to explain some of the finer nuances, I absolutely love teaching people about trademark law—whether that's in a formal classroom setting (I teach brewery law at the Craft Beverage Institute of the Southeast and two of my classes are about trademarks), a speaking engagement at the chamber of commerce or another local group, or counseling my clients during our meetings. Thoughtful questions from people who really want to do the right thing are the best.
What led you to become a lawyer?
When I was in fourth grade, I decided it was time for me to logically select a profession. I really wanted to be on Broadway, but that seemed impractical. I thought about what I enjoyed—reading, writing, public speaking, and problem solving (yes, I set aside singing, dancing, and acting). When my parents took me along to meet a lawyer about their wills, I knew immediately that it would be a good fit. Now, nearly 30 years later and 13 years into practicing, I'd say it was definitely a good choice for me.
What made you decide to pursue certification?
I took the trademark certification exam the first year it was offered after a few others who planned to pursue certification at the same time encouraged me to do so. As the only board certified trademark specialist in western North Carolina, I find that it's a helpful shorthand to explain to potential clients why working with me is a better choice than working with attorneys who focus on other areas and aren't as likely to spot some of the less understood nuances of trademark law.
What is it like to work with clients seeking trademarks or involved in trademark disputes?
Working toward registration is usually exciting. It's wonderful to help clients get to that goal so that the world is on notice of their trademark claims. Disputes can get exciting in a different way. Have you heard of a trademark lawsuit getting through trial for less than six figures? Me neither. Even if money is no object, juries can't reasonably be expected to fully understand trademark law with only an hour (or less) of listening to jury instructions. It's also difficult to balance streamlining a trial to keep the jury involved against getting in all the evidence that supports your arguments. And deciding when to potentially look like a jerk to the jury by objecting to opposing counsel's activities is no cake walk. I encourage clients right from the outset to try to reach a reasonable solution before suit is ever filed, and to continue considering settlement throughout the litigation process.
What activities/volunteer groups are you involved in?
My most time consuming activity this year has been teaching brewery law at the Craft Beverage Institute of the Southeast. What fun! I look forward to seeing my students over the years as employees of my clients and then as clients themselves when they decide to open their own places. I also enjoy serving on the board at Mountain Bizworks, a nonprofit community development financial institution (CDFI), and Asheville Community Theatre, one of the oldest community theatres in the US and currently working on a capital campaign for a long overdue expansion. I serve as a specialist mentor for the Elevate Program through Venture Asheville, a great program to enable startup entrepreneurs to build great companies. In the legal community, I assist the NCBA's Intellectual Property Section's Trademark/Copyright/Trade Secrets Committee with planning education events, including planning and teaching a NC Bar Association CLE last year, "Don't Brew Up Trouble: Trademark and Advertising Issues in the Craft Beverage Industry." In my spare time, I enjoy spending time with my family and friends, traveling (45 Century Club countries visited and counting), trying all the best Asheville (and other) beers, sewing, and watching truly terrible TV shows.
Who is your role model and why?
I'm cheating—I have two. The first is my mom, Linda Crandall. She's a retired high school teacher, and she taught me to appreciate education, make great family memories, love travel, and be an educated voter. The second is my boss, Sabrina Presnell Rockoff, McGuire Wood & Bissette's managing partner. She graduated from A.C. Reynolds High School in Asheville just two years ahead of me, and look at her now. She became the first female managing partner in Asheville's oldest law firm after demonstrating her amazing legal talents at large firms in New York and Raleigh. She always makes time for her amazing family, all the while maintaining a great practice, leading the firm, and mentoring younger attorneys in the firm. She even finds time to run, practice yoga, and actively participate in her religious community. How does she do it? I'm taking notes, Sabrina.