Spotlight: Residential Real Property Specialist Jennifer Scott
Tuesday, September 12, 2017
What is most challenging about your work?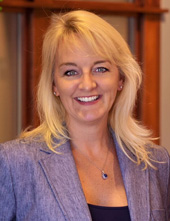 The things that challenge me most are the administrative tasks that come along with the practice of law. I tend to really connect with my clients because I have overcome previous challenges (learning what cases to take and what types of clients or matters to avoid), but I still have to get those billable hours down, review invoices, and assist our partner team with planning and staffing. Oh, and making sure I get it all done while serving as team mom and chauffer extraordinaire to four kids ages 12-15 is also a challenge! I look forward to one of them getting a license.
What is fun about your work?
I enjoy being "general counsel" to my clients. Developers, contractors, and real estate professionals tend to be loyal if you are straight with them, and I like these on-going relationships. I like knowing about all aspects of their business, life, investments, and goals so that when they have an issue, I have an answer. I love being a part of my clients' successes and knowing that they trust my counsel when the road is rough.
What led you to become a lawyer?
Like many opinionated, strong willed little girls, I was often told I would probably be a lawyer when I grew up. I didn't even know what that meant! I met Donna Lefebvre, a political science professor in undergrad at UNC-CH, who recommended that I apply to law schools. I suppose she recognized something of an analyzer in me and liked my ability to express myself. She was so generous and always took the time to evaluate a student and offer advice. I then went to talk with Dottie Bernholz (female lawyer extraordinaire) who was also my undergrad advisor, and the rest is history.
What made you decide to pursue certification? 
I always wanted to be one of those people who never stops learning. I hate a rut. So, as soon as I had the experience under my belt, I pursued certification. Certification has served as a great way to distinguish myself and highlight my expertise for colleagues and clients.
What is it like to work with clients seeking assistance with real property issues in a growing area like Pittsboro?
It's busy! I work in the Raleigh and Wilmington markets also and have fun addressing the different types of dirt law issues in each market. Chatham County is undergoing unprecedented development, and frankly, it is great to see something as massive as Chatham Park take shape in such an otherwise raw landscape. While not specifically involved in the project, the collateral work for many of my clients is a welcome change from the last few years. I love to see folks attracted to our state and invigorated by the projects here.
What activities/volunteer groups are you involved in?
I have enjoyed a number of public service opportunities from Chamber of Commerce, Rotary Club, and Chatham County Planning Board to the North Carolina Parks and Recreation Trust Fund and Research Triangle Regional Partnership, but most recently have taken an appointment to the NC State Banking Commission. Along with being cheer mom to soccer, softball, basketball, and baseball teams seasonally, I commit myself to spin class and total body conditioning at least four times a week. I always take time to chaperone field trips and travel with my kids, too. I find this has been key to my balance in the recent past.
Who is your role model and why?
I have two role models. My mother is the first. She always worked outside the home and kept up with all her mom duties. I think I would collapse some days if I did not have her unending energy as an example of how to do it all and stay sane. My partner, Gary Shipman, is the other. I am consistently amazed at his passion and clarity in all things legal. He is my "go to" when cynicism takes hold of my mood, and he makes me strive to be a better warrior advocate every day for every client.