Three Attorneys Honored with Specialization Awards
The Board of Legal Specialization established the service and recognition awards in 2006, naming the awards for Howard Gum, Sara Davis, and Jim Cross, three lawyers who were instrumental to the establishment and maintenance of the standards for what is recognized as one of the most successful legal specialization programs in the country..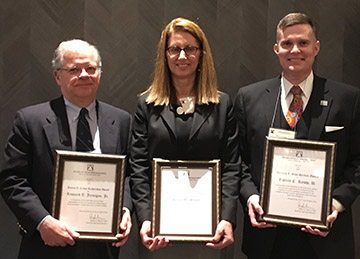 Jim attended the Annual Luncheon on Friday, April 6, 2018, and presented the awards to three board certified specialists who were nominated by their peers to receive a service or recognition award.
The Howard L. Gum Service Award
The 2018 Howard L. Gum Service Award was presented to Criminal Law Specialist Robert"Bert" Kemp.
The Howard L. Gum Service Award is given to a specialty committee member who consistently excels in completing committee tasks. The recipient must be highly dedicated to legal specialization, donate his/her time to committee responsibilities, and respond to the needs of the State Bar staff and the board in an exemplary fashion.
Bert has chaired the Criminal Law Specialty Committee since 2015. He has exemplified fair and dedicated leadership as the committee chair. Bert's nominator states that, "Bert displays a keen insight into the policies affecting North Carolina law and the people who are involved in affecting those decisions and policies. Bert's life displays a commitment to public service and upholding the rights of others, serving as an officer in the North Carolina National Guard's JAG Corps (including active deployment to combat zones), serving as past president of both the Pitt County Bar Association and Judicial District 3A Bar, being a member of the North Carolina Courts Commission, and serving as the public defender for Pitt County. There is no better example of dedication, service, and leadership on the criminal law specialty committee than that of Bert Kemp."
The James E. Cross Jr. Leadership Award
The 2018 James E. Cross Jr. Leadership Award was presented to Workers' Compensation Law Specialist Leonard "Lennie" Jernigan.
The James E. Cross Jr. Leadership Award is presented to a certified specialist who has taken an active leadership role in his/her specialty practice area through presentations at CLE seminars, scholarly writings, participation in groundbreaking cases, or service to an established professional organization.
Lennie has been a workers' compensation law specialist since 2001 and has represented injured workers for more than 40 years. He is the author of NC Workers' Compensation – Law and Practice, widely recognized as the authoritative text on the subject. Lennie is also past president and one of the founding lawyers of the Workers' Injury Law and Advocacy Group (WILG), and a member of the Workers' Compensation Panel of Attorneys for the National Football League Players' Association. Lennie's nominator reports that he is widely respected for his knowledge of and dedication to workers' compensation law in North Carolina. 
The Sara H. Davis Excellence Award
The 2018 Sara H. Davis Excellence Award was presented to Family Law Specialist Rose Stout.
The Sara H. Davis Excellence Award is presented to a certified specialist who exemplifies excellence in his/her daily work as a lawyer and serves as a model for other lawyers. Special consideration is given for a long and consistent record of handling challenging matters successfully, sharing knowledge and experience with other lawyers, earning the respect and admiration of others with whom the lawyer comes into contact in his/her daily work, and high ethical standards.
Rose has more than 25 years of experience as a diligent and caring family lawyer, earning respect for her honesty and integrity from clients, colleagues, and judges. Rose's nominator points out that, "Rose is an exceptional professional. She works tirelessly for her clients, and knows how to fairly settle cases, but will also litigate when necessary. Rose has a broad base of knowledge and experience including tax and retirement issues, valuing complex assets and businesses, support obligations and cash flow, custody and psychological issues, and much more. Rose is an accomplished professional in all of these areas." She certainly serves as a model for other lawyers and we are grateful for her long-standing dedication to specialization in North Carolina.
Congratulations to Bert, Lennie, and Rose.