Spotlight: Gray Styers
Board Certified Specialist in Utilities Law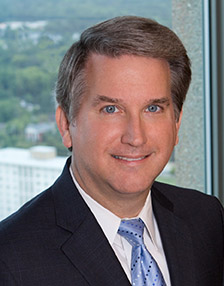 What led you to become a lawyer?
I was a governor's page for then-Governor Jim Hunt, and later an intern in the NC Department of Commerce, and saw how attorneys served as leaders both in my home town of Hickory and in Raleigh. I wanted to have a career that enabled me to make a difference in the lives of others and to improve the communities in which I lived and worked. To me, the legal profession, at its core, appeared to be a calling to service.
What made you decide to pursue certification? 
Utilities law, technology, and regulated markets are rapidly changing. I spend a lot of time staying abreast of those changes, and the specialization designation reflects those nonbillable hours and efforts. Regardless of the area of law, I feel that lawyers should engage in lifelong learning so that they can stay current and are well qualified to serve their clients' needs. 
What do see as the benefits of achieving this goal? 
There are several benefits. First, preparing for and taking the exam helped hone my knowledge and understanding of the applicable statutes and regulations, and I thought it was a good assessment of my own skills. Second, I like attending the State Bar Specialization events at which I can meet and exchange ideas with my colleagues who are also specialists in the area. Lastly, in this age of increased specialization, it can distinguish my practice and signal to existing and potential clients that I am experienced and knowledgeable in this area of the law.
What is it like to work with clients seeking assistance with utilities law issues in Raleigh?
I'll admit it—I'm a policy wonk, and I love wrestling with big-picture policy issues. Every time someone turns on a light switch, a water faucet, or a natural gas stove, the rates that they pay and the quality of service they receive are, in part, a function of utilities law decision. I sincerely believe that governmental agencies can protect and advance the public good, and I like helping clients navigate the complicated intersection of business decisions and public policy.
In what activities/volunteer groups are you involved?
I have always been a history buff and am currently vice-president of the North Carolina Museum of History Associates. I served for many years on the Board of Directors of Big Brothers and Big Sisters. I have been active at Raleigh Moravian Church. In the Bar, I have served as president of the Wake County Bar Association and on the Board of Governors of the North Carolina Bar Association. 
Who are your role models and why?
I have been fortunate to have many role models. My father worked 35 years in public education. He instilled in me a commitment of public service and helping others. Governor Jim Hunt's leadership at the state level was very much an inspiration and motivation for me to come to Raleigh. I have also learned so much about the practice of law from my mentors and colleagues at the firms where I have been privileged to work—at Kilpatrick Townsend, Blanchard Miller, and now at Smith Moore Leatherwood.