Spotlight: Vedia Jones Richardson
Wednesday, August 15, 2018
Board Certified Specialist in Trademark Law, Durham, NC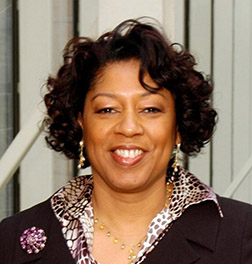 What led you to become a lawyer?
I actually initially was not intending to become a lawyer. I was happily working in marketing communications and graphic design, but I always have had a strong interest in understanding how things work and what systems govern them. I also have always had strong analytical and language skills. So when I decided to get further education after having a BFA degree in commercial design, studying the law of marketing communications seemed like the best next step.   
What made you decide to pursue certification? 
I have practiced in the areas of trademark, copyright, marketing, and technology law for many years. I also teach a USPTO-certified trademark legal clinic at NCCU School of Law. So when the trademark certification became available, I felt certain that I would be qualified. 
What's the best thing about achieving that goal? 
Receiving recognition of your expertise is always valuable. My clients, students, and colleagues all seem to appreciate that I can claim this expertise officially through the NC State Bar certification.
What is it like to work with clients seeking assistance with trademark law issues in Durham?
Given the nature of trademark work, I actually assist clients from all over, not solely in Durham or even just in the state of North Carolina. I also assist attorneys from around the world who want to help their clients obtain registration of their trademarks in the US. Nevertheless, Durham in particular is a vibrant and growing market with lots of creativity and an active emerging business, technology, and arts community. This provides lots of opportunity to help clients with trademarks and other intellectual property issues.
What activities/volunteer groups are you involved in?
I have always maintained an interest in supporting the arts and communications fields and computer technology, and I have served on a number of arts and technology boards and commissions over the years. I currently serve on the boards of Triangle Artworks and the Southern Documentary Fund, and am active in the Law Practice Division of the American Bar Association as a past chair and member of the council and in the Small Firm and Technology Section of the NC Bar Association. Naturally, I also am a member of the Intellectual Property Sections of both of these associations.
What do you want non-trademark attorneys to know about what you do?
I think it is important to understand that trademark law is an area of practice that really benefits from a creative perspective and an understanding of both the business and legal issues involved. Generally, with a good understanding of the legal issues and the client's business needs, I often can come up with a workable solution that not only will obtain the best legal result, but also will provide a valuable business solution.