Spotlight: Shannan Barclay Tuorto
Wednesday, October 03, 2018
Board Certified Specialist in Family Law, Asheville, NC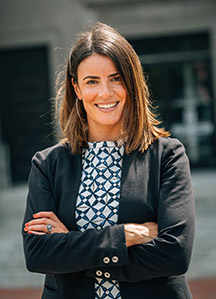 What led you to become a lawyer?
In high school I had the opportunity to shadow a family friend who worked as an attorney. He was, and still is, a general practitioner in a small town in rural Pennsylvania. During my time with him, I was able to get a real glimpse into the practice of law and the myriad of issues and people you meet and help. I wanted to be a problem solver, and I was drawn to the practice based on that experience. That has been the most gratifying part of my practice—helping clients in very difficult positions move forward in a positive way. Also, I knew that law would allow me to move and work anywhere. Finally, I was always motivated to work for myself and establish my own practice, and law has allowed me to do just that.
What made you decide to pursue certification? 
I've had wonderful mentors throughout my legal career. During law school I had the opportunity to spend a semester clerking for the Honorable Rebecca Knight, who served as one of the first family court judges in Buncombe County. Judge Knight was an amazing teacher, and she was the first to encourage certification. Since then I've also been lucky to have an extremely supportive group of family lawyers here in Asheville. Of that group, the lawyers that I have had much respect and admiration for have been specialists. They all inspired and urged me to pursue that option. I also felt that in a town like Asheville, it was important to distinguish myself as a specialist. I take pride in what I do and how I practice law, and becoming board certified felt like the right next step.
What's the best thing about achieving that goal?
No more tests! I took the exam with a good friend who also practices in Asheville, and we both agreed we would never take another test after that one. But really, the best thing about passing the exam was taking pride in knowing that I had set a goal for myself and I had achieved it.
What is it like to work with clients seeking assistance with family law issues in Asheville?
Working in Asheville gives me the chance to experience the full gamut of family law cases. I have clients from all walks of life. Some come to me wanting to divide a trailer, and some come to me with multimillion dollar estates and businesses. I like the variety of being confronted with a new set of facts and legal questions at each consultation. I also like the opportunity to meet people and get a glimpse into the story of someone's life that I otherwise would have no way of knowing.
What activities/volunteer groups are you involved in? 
I have a two-year-old son who happily takes up lots of my time and attention. Beyond the time with my family, I volunteer with the Mountain Area Volunteer Lawyer's Program through Pisgah Legal Services and help provide pro bono representation to those in need of legal aid. Hiking, Pilates, and gardening are my preferred activities when I have time.
Who is your role model and why?
My mother and grandmother have been my biggest role models. Both, in different ways, have taught me what it means to be independent, hardworking, and kind. My grandmother, who has since passed away, grew up during a time when there weren't as many options for women. Despite that fact, she played college basketball in the 1930s (and was team captain), received a masters' degree from UNC-Chapel Hill, raised four children, and worked for 40 years in education. Similarly, my mother has shown me what it looks like to have a successful career, be engaged in your community, and be a loving parent. Both have paved the way for me and shown me what it looks like to be a strong and independent working mother. I am eternally grateful for that.
What do you want non-family law attorneys to know about what you do?
Family lawyers often have big personalities, and luckily most have a great sense of humor to match. I think that fact is important because the type of work we do can be extremely draining and emotionally demanding. We are helping clients through what is often the most difficult points in their lives. From my experience, most family law attorneys truly have a desire to help, and we want to create long lasting solutions that allow our clients and families to move forward. Keeping things in perspective and having a good sense of humor are important in all of that.