Why Your Support of the Jeri L. Whitfield Specialization Scholarship Fund Matters
Wednesday, November 14, 2018
Law school graduates can easily be buried under mortgage sized loans of $150,000 or more.
The starting salary for assistant district attorneys and public defenders is $40,366.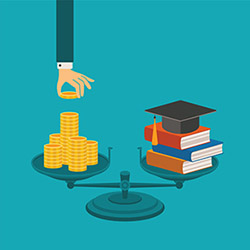 One pressing challenge facing our criminal justice system today is the retention of qualified prosecutors and public defenders, who serve every day to ensure that our communities are protected, the rule of law is upheld, and the rights of the citizenry are safeguarded. Both prosecutor and public defender offices consistently find it difficult to attract and retain talented attorneys due to educational debt load. Attorney shortages in these offices can result in overworked staff handling unmanageable caseloads, potentially affecting public safety, the administration of justice, and ultimately the public's confidence in our justice system.
The starting salary for legal services lawyers is $42,000.
The loss of the Access to Civil Justice Act funds has severely impacted three primary civil legal providers in our state: Legal Aid of NC, Charlotte Center for Legal Advocacy, and Pisgah Legal Services. Reduced resources resulted in a significant reduction in service capacity and legal representation for thousands of North Carolinians. This cut not only impacts our citizens, but impairs judicial system accessibility, effectiveness, and efficiency. Attorneys must provide services to a growing number of clients without the resources to expand agency legal capacity. Assisting these lawyers seeking board certification recognizes their commitment to service and encourages them to continue to both serve underrepresented citizens and improve their knowledge and skills in their practice area.
"Being board certified has helped me be able to let victims in my cases (lots of violent felonies, child sex cases, felony DV, etc.) know that even though the defendant in their case might have a well-known, board certified specialist on their case, I am just as qualified and have met the exact same standards as defense counsel."    
Christon S. Halkiotis
Board Certified Specialist in State Criminal Law
Assistant District Attorney, 18th Prosecutorial District
"Being a criminal law specialist has given me a tangible attribute that shows that I care and know about the law, my continued professional development, and my clients."    
Deonte' Thomas
Board Certified Specialist in State Criminal Law
Assistant Public Defender, Wake County