Board of Legal Specialization Recognizes Milestones, Announces Service Awards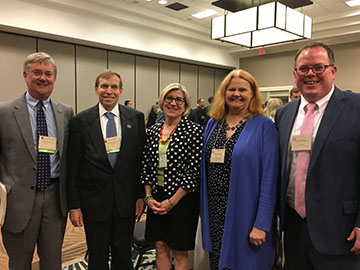 The Board of Legal Specialization at its annual luncheon recognized newly certified specialists as well as specialists who have been certified for 25 and 30 years. The board also announced the recipients of the Service and Excellence Awards at the luncheon on May 17, 2019. The awards were established in 2006 and were named for three individuals (Howard Gum, Jim Cross, and Sara Davis) who were instrumental to the establishment and maintenance of the standards for what is now recognized as one of the most successful legal specialization programs in the country.
Pictured, left to right, are Chalk Broughton, Justice Robert Edmunds, Alice Neece Mine, Parker Herring, and Brian Oten
Congratulations to the recipient of the 2019 Howard L. Gum Service Award – Immigration Law Specialist Tom Fulghum. Tom has exemplified dedicated leadership by serving as chair of his specialty committee since 2017.. He has focused his specialty committee on bettering the exam as well as challenging each committee member to improve questions assigned to them. He has worked with the committee as a whole, and with committee members individually to be sure that the exam exemplifies what attorneys should know in order to call themselves specialists.
Congratulations to the recipient of the 2019 James E. Cross Jr. Leadership Award – Privacy and Information Security Law Specialist Matt Cordell. Matt has been an attorney since 2007 and a specialist since 2018. He is the author of dozens of blogs about cutting edge issues in his field, has frequently spoken at CLE and other educational events, and has been a leader and innovator in his specialty. He is the founder and chair of his specialty area, and through his dedication and hard work has established the first ever state bar specialization program of its kind. His commitment to his specialty led to the certification of the first class of specialists this past fall, and set the NC State Bar and the state of North Carolina apart from the rest of the nation in a groundbreaking area of legal specialization.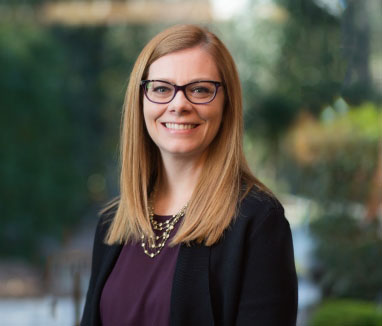 The 2019 Sara H. Davis Excellence Award was presented to Trademark Law Specialist Angela Doughty. Angela has been a specialist since 2013. She has participated in the North Carolina Bar Association Intellectual Property Law Section since 2007, and has served in various positions including committee chair and council member, and worked on the executive committee in officer positions including secretary, treasurer, vice-chair, and chair. She worked with the North Carolina State Bar and Bar Association to create her specialty committee, on which she served from 2012-2018, and she was one of the first individuals certified in her specialty area. In addition, she has spoken at various events for lawyers and has been recognized by clients and peers with numerous other awards.