Reminder: Recertification Period Begins July 1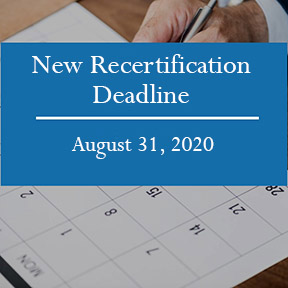 The Board of Legal Specialization has approved changes to the annual timeline that will affect when applications are due for recertification. The deadline now occurs one month earlier to allow for staff processing and sufficient consideration by specialty committees.
If you were originally certified or last applied for recertification in 2015, you will need to apply for recertification by August 31, 2020. Those who are scheduled for recertification this year will receive a detailed email memorandum in June concerning the recertification process. You will receive no other notification, so please be sure that your email address with the program is current by checking your listing in the specialization directory.