Maintaining Your Certification – Upcoming Deadlines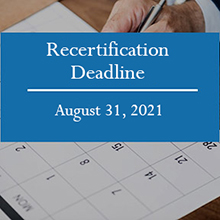 Annual dues notices and recertification application notices will be sent on July 1, 2021. It is our hope that by sending these out at the same time, specialists will come to rely on that communication to confirm which fee they owe that year, as well as the consistent timing of the payments. Annual dues and recertification applications will be due on August 31, 2021.
Recertification in 2021
If you experienced difficulty in meeting the specialization CLE requirements due to the COVID-19 pandemic and associated scheduling and financial issues, please plan to complete a Request for a Waiver of Strict Compliance. The deadline to file this will be August 31 as well.
Please direct any questions about deadlines or fee payments to Lanice at lheidbrink@ncbar.gov.