Spotlight: Pamela Chestek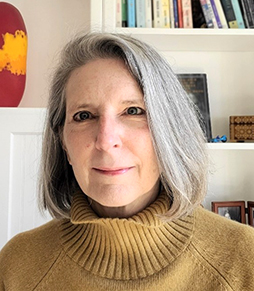 Board Certified Specialist in Trademark Law
Pamela practices in Raleigh with Chestek Legal, helping her creative clients make choices about owning, sharing, and protecting their work product. She advises on traditional models of intellectual property ownership as well as alternative paths.
In addition to her North Carolina licensure, Pamela is admitted to practice in Connecticut, the District of Columbia, Massachusetts, New York, and recently passed the California bar exam as well. She decided to take the California bar exam in part because her daughter is considering a move to the state, but also because their bar exam for attorneys already licensed in another state seemed do-able. The exam was offered with remote proctoring, allowing Pamela to complete the whole process without traveling out of state. California uses the same exam administration software that the NC specialization program uses, ExamSoft/Examplify. As the Trademark Specialty Committee chair, Pamela was already somewhat familiar with the remote exam process.
How was the experience of completing the California bar exam remotely?
I decided on January 2, 2021, which happened to be the deadline to register for the February exam administration. Because California was offering only remote proctoring for the February exam due to COVID, I thought worst-case scenario would be to lose the application fee, so it was probably worth a try. I completed the exam from home, setting up a temporary office space in my bedroom to comply with the requirement that no books or papers could be within view or reach of your desk—definitely not true of my regular home office space. ExamSoft provided a lot of information about the software, the technological requirements, and the identity confirmation and remote proctoring processes.
My laptop crashed a few days before the exam and had to be rebuilt. That was a bit stressful, but the ExamSoft tech support was helpful, and the process was relatively smooth from there. I had no problems with downloading the exam modules or uploading my completed exam and video files. My only real issue was that my laptop screen is relatively small and that made it hard to see both the question/answer portion of the screen and the attachment needed for the question content. Overall, I found it to be the least stressful bar exam of all that I've taken, but that may also be partly because it didn't really matter if I passed.
Has the practice of trademark law been impacted greatly by the pandemic?
Overall, the practice of trademark law has increased since early 2020. A lot of trademark work is handled electronically anyway, so most of the trademark lawyers adjusted easily to working from home. We have also seen a pretty significant jump in the number of trademark applications filed, with about a 65% increase in the last couple of years. This increase has caused a delay in processing from the United States Patent and Trademark Office (USPTO), and we are typically waiting about six months for an office action response these days.
What's behind the increase in trademark applications?
There are a couple of interesting changes contributing to this issue. There has been a significant increase in trademark applications from China, which the USPTO attributes to subsidies offered by the Chinese government, which encourages filing applications that may be fraudulent. Another reason for more applications is Amazon's focus on increasing cross-border e-commerce and its "Brand Registry" program, which gives preferential treatment to sellers with a trademark application. There's a recent New York Times article that gives a pretty comprehensive overview. The USPTO is struggling to keep up and, in trying to solve its problem, has made the process more challenging for all applicants.
Any words of advice for those preparing to complete this year's specialization exams using remote proctoring?
I would take advantage of the ExamSoft practice exams. It's an opportunity to get comfortable with the testing environment and navigating through it, what windows you can shrink and expand to free up more space for the answer box or the note-taking area. Overall I found the online exam experience much more comfortable, with less distractions, than sitting in an unfamiliar room with other test takers. If I take any more exams in the future and have an online option, the online option is an easy choice for me.