Overhaul: CLE Rules and Regulations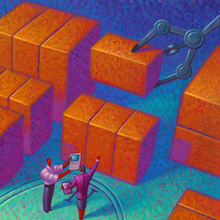 The State Bar Council recently published proposed changes to the structure of continuing legal education in North Carolina. You can view the proposals in the latest edition of the State Bar Journal, as well as on the State Bar's website by clicking here. The purpose of the changes is to a) offer lawyers more flexibility in pursuing relevant CLE; b) ease the burden on lawyers to monitor their progress on meeting CLE requirements; and c) simplify the administrative processes (including course applications and enforcement of CLE rules) for State Bar staff to increase efficiency. As you can imagine, the only way to accomplish such significant goals is through significant changes.
When these proposed amendments were introduced at the State Bar Council's meeting in April 2022, one of the first questions asked by a State Bar councilor was, "How will these changes impact specialization CLE requirements?" In the months following that meeting, we've fielded a number of similar inquiries from concerned specialists. These questions tell me two things: First, specialists are paying attention to State Bar developments (which I greatly appreciate!); and second, there's a lot of confusion about how the CLE rules for general lawyers (both the current rules and the proposed rules) interact with our specialization requirements, particularly the carry-over provision. This article seeks to clarify the issue.
Generally speaking, specialization CLE requirements are separate from a lawyer's general CLE requirements, and the proposed CLE rules should not drastically change how a specialist (or an intended specialist) approaches CLE.
As you all know, specialization CLE requirements are more demanding than the general requirements. All specialties have "look-back" reporting period requirements (e.g., 36 hours over the three years preceding an application for initial certification in child welfare law; 60 hours over five years to maintain your certification in child welfare law). Some specialties also require a yearly minimum number of hours in the specialty area (e.g., 60 hours over five years to maintain your certification in family law, with no less than nine hours in any given year). All specialties also impose content-specific requirements as to the types of CLEs a specialist must take to obtain and maintain their certification. Specialization imposes these heightened requirements because they contribute to fulfilling the primary purpose of the specialty certification process: to identify to the public lawyers who have demonstrated their dedication to and proficiency in a particular area of law. These requirements stand separate from and in addition to the general CLE requirements for lawyers, though satisfying the specialization requirements often significantly contributes to meeting the general requirements.
One of the most frequent questions asked about the interaction of these new CLE rules and the specialization rules concerns the elimination of the "carry-over" credit. As background: Under the current CLE rules, all lawyers are required to take 12 hours of CLE each year, and all lawyers are permitted to carry over up to 12 hours of CLE credit from year to year. That means if I take 24 hours of CLE in 2022, I have effectively satisfied both 2022 and 2023's CLE requirements and would not need to worry about taking any additional CLE until 2024. (Depending on what courses I took, I may need to still satisfy the annual ethics, technology, and/or substance abuse/mental health requirements that remain.) Under the proposed CLE rules, all lawyers will move to a three-year reporting period and will not be permitted to carry-over hours from one period to the next—that means lawyers would simply have to complete 36 hours over three years (with requirements for ethics hours and so on, but scaled to match the new three-year reporting period). Note: The CLE Board will be reviewing the comments received by lawyers in the coming weeks and intends to take a second look at the proposed elimination of carry-over hours. It is possible that the board will conclude that a small amount of carry-over hours should be permitted.
A number of specialists have expressed concern that the elimination of the carry-over credit will make it more difficult to satisfy specialization CLE requirements. Current applicants for specialization have also noted that the elimination of the carry-over credit will likely dissuade individuals from applying for certification in the future. These are substantial concerns, but I fear they are somewhat misunderstood, so let me be clear: None of the specialties have carry-over provisions/allowances, and the elimination of the carry-over credit does not impact a lawyer's ability to meet the specialization CLE requirements. Specialization has never incorporated carry-over hours to count towards a subsequent requirement because one of the important aspects of certification is the message sent to the public that you remain current in your field via CLE, among other things.
If anything, the carry-over credit serves as a temptation to fall behind in keeping up with specialization requirements. For example, an applicant pursuing certification in estate planning must take 72 hours of estate planning CLE during the three years preceding the application. If the applicant took all 72 hours in 2022, the applicant would only be allowed to carry over 12 of those hours to satisfy next year's requirements. That sounds great, but if the applicant is ultimately certified as a specialist in estate planning, s/he will be under a new requirement to complete 120 hours over the next five years to maintain the certification. If the applicant decides to rely on the carry-over hours and not take any CLE that following year, s/he will be behind in meeting the specialization CLE requirements (the applicant would need to complete those 120 hours over four years, rather than five). Said another way, relying on the carry-over could actually hurt a lawyer's ability to keep pace with specialization requirements, and depending on the specialty, hours carried over simply cannot be "enjoyed" because of the specialty's annual CLE requirements. In sum, carry-over is a nice idea, but it's not terribly impactful (and sometimes is detrimental) for a specialist.
While specialists generally have a more significant CLE burden than noncertified attorneys, that burden is present in the current CLE system just like it will be in the new system. If you're keeping up with your specialization requirements, I anticipate that you'll be fine meeting the general CLE requirements, regardless of whether it's a one-year or three-year reporting period. You will, of course, need to also satisfy the additional requirements related to ethics, technology, and mental health/substance abuse, but that's no different from the current rules.
If you have questions or additional comments about the proposed changes to CLE in North Carolina, you may email your thoughts to CLE Director Peter Bolac (pbolac@ncbar.gov). If you have further questions about the specialization program and the interaction between the new CLE rules and our program's requirements, feel free to contact me directly (boten@ncbar.gov).
Thank you for your continued dedication to this profession and the people of this state through certification.
Respectfully,
Brian Oten
Director
Board of Legal Specialization