Thank you for your Service
Two members are rotating off the Board of Legal Specialization this month: Laura V. Hudson and Nancy S. Ray. Both have served for six years and contributed ideas, perspectives, and passion for the work of the Board.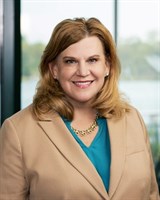 Laura is Chief Marketing Officer at Ward and Smith P.A. in Raleigh. Her insights regarding specialization program recognition and marketing opportunities have been an invaluable resource and her enthusiasm will be sorely missed.
Nancy is a Pitt County magistrate, hearing both civil and criminal matters and presiding over Pitt County's small claims court. She also teaches business and insurance law at East Carolina University. Her calm demeanor and thoughtful approach have been a great asset to the Board and she will be missed.