Christon Halkiotis, Board Certified Specialist in State Criminal Law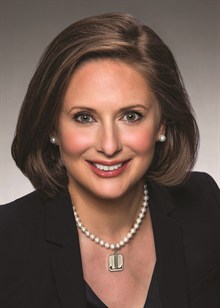 I recently had an opportunity to talk to Christon Halkiotis, a board certified specialist in state criminal law practicing in High Point. Christon, a native of Chapel Hill, graduated from Rutgers University in 2000, where she majored in political science and minored in philosophy. She returned home and graduated cum laude with a JD from the North Carolina Central University School of Law in 2004. Christon's favorite law school activities were serving as articles editor of the Law Review during her third year, as well as interning in the Orange County District Attorney's Office with then-DA (now Senior Resident Superior Court Judge) Carl Fox and his wonderful assistants. She never went out for any mock trial activities in school, since she was having way too much fun and learning so much trying real cases in Orange County District Court. Christon was hired by the Guilford County District Attorney's Office shortly after passing the bar exam in 2004. She has since prosecuted in district court in Greensboro and High Point, juvenile court in High Point, and since 2007 she has been assigned to prosecute felonies in superior court in High Point. She became a board certified specialist in state criminal law in 2014. Following are some of her comments about the specialization program and the impact it has had on her career.
Q: What were your early indications toward criminal law?
I knew I wanted to be a lawyer from an early age, but I cannot remember one specific day where I decided that criminal law was what I wanted to practice, although it always greatly interested me. By the time I finished college, I knew I wanted to be a prosecutor, and I specifically chose to attend a state law school so that my financial indebtedness would not prevent me from seeking employment as an assistant district attorney.
Q: Why did you pursue board certification with the State Bar?
Early on in my career, I set board certification as a personal goal for myself to know that I had attained a benchmarked level of professional expertise in my practice area. After ten years of practicing criminal law exclusively, I decided it was time to apply to sit for the exam. The year I applied to take the exam (2014) was the first year that the NC LEAF stipend to cover the application expense for public service lawyers was available. I was thankful for that help.
Q: How has certification been helpful to your career and to your work as an assistant district attorney?
Certification allows me to bring credibility to the table before people even meet me. Women are still underrepresented in superior court criminal litigation, and I feel that certification helps me be taken more seriously. I prosecute a large number of child sex cases, felony domestic violence cases, and homicides, and it is nice to be able to tell victims in my most serious cases that I have attained a certification commensurate with that of some of the best defense attorneys.
Q: How does your certification benefit the criminal justice process and the public?
Certification can inspire a great deal of confidence from the public. I believe that if more judges, assistant district attorneys, and assistant public defenders become certified, that can help increase public confidence in the court system and the criminal justice process as a whole. We all benefit as a society when ethical, experienced, and excellent trial attorneys choose to work as career prosecutors and career defenders. If more of them were certified, it could go a long way toward helping the general public realize just how valuable these public servants truly are.
Q: Are there any hot topics in your specialty area right now?
There are a number of hot topics in superior court criminal litigation right now. One in particular has come up multiple times for me over the past year. I am assigned all of the petitions for removal from the sex offender registry in High Point, as well as the satellite-based monitoring reasonableness hearings. After the United States Supreme Court ruling in Grady v. North Carolina, 135 S. Ct. 1368 (2015), which held that North Carolina's satellite-based monitoring program is a search under the Fourth Amendment, and therefore must be reasonable, we have seen multiple North Carolina appellate court rulings in the last year regarding satellite-based monitoring and how it may or may not be reasonable as applied to variously situated defendants.
Q: What do lawyers who don't handle criminal cases need to know from a criminal law specialist?
Any lawyer who doesn't handle criminal cases should never go to court and try to handle a criminal case. There is simply too much at stake for the defendant, even in traffic cases. If you don't know a good criminal defense attorney to refer someone to, find a specialist on the list and make a referral that way. Whenever someone asks me for a recommendation, and I don't know anyone in the field in that part of the state, the specialist list is always what I pass along to them and suggest they pick someone who is certified in that area.
Q: How do you stay current in your field?
The additional CLE requirement for specialists certainly helps to ensure that I stay current on the law in my field. In addition, I subscribe to and read the School of Government's North Carolina Criminal Law blog religiously, as well as the case law update emails from the School of Government. The North Carolina Criminal Law blog was such a useful tool when I was studying for the specialization exam. Multiple essay questions had fact patterns that came straight out of real North Carolina criminal appellate cases, which the blog had addressed with specific case analyses within the year leading up to the exam.
Q: Do you work with any volunteer organizations or other groups, related to work or outside of work, that you enjoy?
I am currently serving as the 2018-2019 president of the Junior League of Greensboro. I also volunteer, along with my Pembroke Welsh Corgi, Orso, as a registered pet therapy team with the Greensboro chapter of Alliance of Therapy Dogs.
Q: How do you see the future of specialization/board certification? What would you say to encourage other lawyers to pursue certification?
I hope that eligible lawyers continue to seek board certification, especially women, minorities, and public service attorneys. There is no reason not to pursue certification! As the six law schools in our state continue to graduate new classes of attorneys to populate our ranks, board certification is a great way to make sure that you stand out as someone who has reached the highest level of professional expertise in your practice area. Even though a large amount of studying is necessary, it will be beneficial since you will review so much material in your practice area. The reviews I did of Chapters 14, 15, 15A, 20, and 90 of the NC General Statutes during my exam preparation were worth their weight in gold to me in my everyday practice. For public service lawyers, remember that the NC LEAF stipend is available to cover the application expense and apply for that early! 
For more information on how to become certified, visit our website at nclawspecialists. gov.