Delores Todd, Board of Legal Specialization Public Member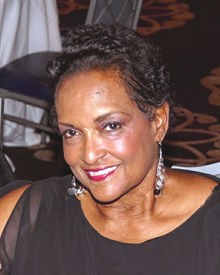 The North Carolina Plan of Legal Specialization requires the specialization board to include three public members. Public members contribute fresh views of the program which helps the board to make good decisions regarding how to best protect the public. Public members represent consumer interests and also bring with them years of experience in their professions and have extraordinary personal and career accomplishments under their belts. One such person is Delores "Dee" Todd.
Dee has been a trailblazer throughout her career. She has consistently risen above the barriers in her path, all the while making history. Growing up in Camden, New Jersey, Dee always loved sports, even when the common notion at that time was that girls didn't play sports. The self-confessed tomboy wanted to be a veterinarian until she found out she would need to practice on large animals as well as small. She never set out to take the academic sports world by storm, but she admits that, "it fell in my lap and I went with it!"
Early in her career, Dee was a sought-after model, including recognition as Chicago's top African-American model for five consecutive years. She modeled for well-known companies such as Fashion Fair Cosmetics, Bell Telephone, Soft Sheen, Natalie Cole Wigs, Kodak, and Dr. Scholl's. Little did Dee know that the modeling would change her life significantly.
Dee was a track coach at Thornridge High School in South Holland, Illinois, when the opportunity of a lifetime came along. In 1980, when the United States boycotted the Olympics, Kellogg was in need of a strong, influential person to grace its Corn Flakes cereal box. The Kellogg company went to Dee's agent and inquired whether Dee would be willing to pose for the box. She gladly accepted and became the first African-American woman to be featured on a Kellogg's cereal box.
Dee's career as an intercollegiate athletics executive allowed her to use her expertise at many influential institutions and organizations including North Carolina A&T State University, Georgia Institute of Technology, Northwestern University, and the Atlantic Coast Conference (ACC).
Throughout her career, Dee has passionately fought for the equality of women and minorities in sports. She became a strong advocate for the advancement of women and minorities through her work with the Urban Education Institute, US Women's Track Coaches Association, and as a life member of the Delta Sigma Theta Sorority. Dee made history when she was appointed in 1996 by US Olympic Committee president to head the US Olympic Committee Minorities in Sports Task Force, becoming the first African-American woman to hold the position. Dee currently coaches track at Heritage High School in Wake Forest.
Dee's six-year term on the specialization board ended in July of this year. I had the opportunity to talk with her about her career accomplishments, her service on the board, and what she's doing when she's not out changing the world.
Q: You just finished your term on the Board of Legal Specialization. What will you miss most about service on the board?
I will miss learning about the various processes that go into becoming a legal specialist in the different specialty areas. I will miss serving on the certification and recertification applicant appeals. I'll miss saying "second" to motions. I will miss the board, committee members, and staff the most; they taught me a great deal about understanding the specialization program.
Q: From the perspective of a former board member, finish this sentence: "I'm excited about the future of legal specialization because..."
As a society, we are changing how we do business in the world. As new areas of law are introduced, and existing areas are more in demand, the need for specialists continues to grow. The board has been very proactive in identifying the growth and the need to continue adding new specialty areas and improving the process for existing certifications and recertifications.
Q: Do you feel your career and personal accomplishments prepared you for service on the board?
Most definitely! As a long-time assistant commissioner for the ACC, my job was to organize and direct championships in 23 sports. Although the basics of each of the championships were the same regarding planning and execution, each sport had different elements, very in line with how the specialization program works. Being involved in the creation of specialty areas for juvenile delinquency law, utilities law, trademark law, and privacy and information security law (the only such specialty in the nation) was as fulfilling an accomplishment as when I started eight different championships during my tenure at the ACC.
Q: What do you think is the importance of legal specialization to the public?
Legal specialization is important to consumers because it helps them to identify qualified lawyers. I equate it with an internal medicine doctor who has knowledge of illnesses, but cannot treat specific illnesses that need a specialist like for diabetes or heart disease.
Q: What's something personal that most people don't know about you?
I love trivia and animals, and, when I'm not working, I'm happiest watching TV game shows. 
For more information on how to become certified, visit our website at nclawspecialists. gov.