Deonte' Thomas, Board Certified Specialist in State Criminal Law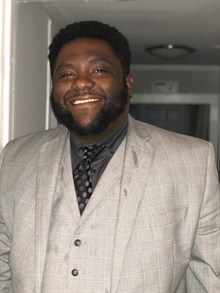 I recently had an opportunity to talk with Deonte' Thomas, a board certified specialist in state criminal law, who practices as a public defender in Wake County. Deonte' began his education as a criminal justice major at Fayetteville State University, later completing his law degree at the University of North Carolina at Chapel Hill. While in law school he was a member of the Student Bar Association, served as chief justice of the Honor Court, and found inspiration in the content and challenge of his evidence classes.
Following his second year in law school, Deonte' worked at the Orange County Public Defender's Office in Chapel Hill. He developed a sincere appreciation and admiration for the attorneys working there, and the experience sparked a strong interest in pursuing a career as a public defender. After graduation, Deonte' worked at the Fair Trial Initiative in Durham assisting with death penalty cases. His comments on his legal career and specialty certification follow below.
Q: Why did you pursue board certification in state criminal law?
This is the work that I do every day. It's the only kind of law that I envision myself doing, so [pursuing board certification] was an easy decision as the next logical step in my legal career.
Q: How did the option for a North Carolina Legal Education Assistance Foundation (NC LEAF) scholarship* impact your decision?
I doubt I have would have applied for board certification and taken the test without the scholarship. At least not at that time. As a public interest attorney, even with years of experience, every dollar I made was immediately accounted for as soon as I got paid. Receiving the scholarship took that burden off of my shoulders, and it also made me appreciate and respect the test more out of appreciation for those contributing to the scholarship.
*The North Carolina Legal Education Assistance Foundation works with the Board of Legal Specialization to offer certification application scholarships for public interest attorneys. The scholarships are completely funded by donations and 100% of contributions are used in scholarship funding. For additional information or to make a tax-deductible donation, visit www.ncleaf.org.
Q: How did you prepare for the examination?
There were outlines passed around by colleagues, just like we had back in our 1L days. In addition, I borrowed a few of the Bar Prep books from one of my interns. These provided good umbrella topics that I needed to refresh my study outline.
Q: Has certification been helpful to your work as a public defender? In what ways?
Being a public defender doesn't typically generate a ton of respect right out of the gate, and I fight against that perception daily. My certification gives me another tool to continue that fight. I tell my clients within the first minute that I meet them that I am a specialist and that I'm going to fight for them. I think that gives them some amount of confidence in my abilities, especially when they have to put their life decisions in the hands of a person they've just met. I'm sure it's a harrowing position to be in, and hopefully knowing that I care enough to take the added steps to be a specialist provides added comfort.
Q: What do your clients say about your certification?
"I heard you're a good lawyer." When I first meet a client, that is the type of comment I generally hear. This information is typically coming from the jail pods or from their family doing a google search. Having the certification certainly makes initial meetings run more smoothly and be more productive.
Q: How does your certification benefit your clients?
Trust is the most important thing in an attorney client relationship. Having the certification is another stamp, showing that I work hard and that I am prepared, and that the advice I am providing is accurate, to the best of my ability.
Q: Are there any hot topics in your specialty area right now?
The legalization of hemp and its effect on probable cause searches for marijuana is a topic to watch. As a criminal defense attorney, I am definitely biased on that outcome.
Q: How do you stay current in your field?
The UNC School of Government Law blog is a part of my daily routine. I also learn something every time I take cases to trial.
Q: How is certification important in your practice area?
It's hard to be a master at all forms of law. I think criminal law specialization is especially important because of the quick pace of the court, and because of the real-life, serious consequences of this area of law.
Q: How does specialization benefit the public and the profession?
As lawyers, we are accountable to the profession to maintain high personal standards, both for ourselves and other attorneys. Being a specialist helps you stand out to the public and gives them a way to easily find a person that is dedicated to their needed area of law.
Q: What would you say to encourage other lawyers to pursue certification?
You can do it! Yes, it is a challenge. A serious one. However, I was elated when I passed the test and am proud of it every day. Lawyers are used to the challenges of life and facing them head on. This is just another challenge. And don't be afraid to defer the test if the time comes and you aren't quite ready. I had to, and other lawyers I talked to have as well.
Q: How do you see the future of specialization?
With the abundance of attorneys, especially in Wake County, I think specialization will be important to help us stand apart. 
For more information on how to become certified, visit our website at nclawspecialists. gov.