E. Cordell Avery, Certified Specialist in Residential Real Property Law
"Cordell is an excellent lawyer, always attentive to the details of a transaction. He cares about the profession and professionalism of those who practice law, and is never reserved in expressing his concerns. I learned so much from him, especially in my first few years of practice."
—Nancy Ferguson, vice-president, Chicago Title, board certified specialist in real property law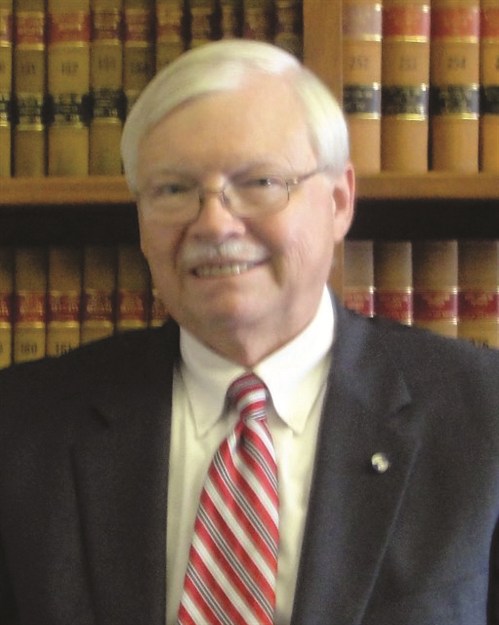 As the specialization program celebrates and reflects on 30 successful years, it's important to express gratitude to the pioneer specialists who always believed in the importance of board certification and played an integral part in the growth of the program. E. Cordell Avery is one of these pioneer specialists. Avery was certified in residential real property law in 1987 and was part of the first class of lawyers certified by the North Carolina State Bar.
Avery earned his law degree from the University of North Carolina in 1976. During the course of his career, Avery was been heavily involved in several professional associations and organizations. He served as president of the Pitt County Bar Association from 1985 to 1989. He served in various capacities with the North Carolina Bar Association including a term on the Real Property Law Section Council and as chair of the Real Property Law Membership and Diversity Committee.
Q: Why and when did you decide to focus on real property law as your field of practice?
During the summer breaks from law school I worked as an intern for a Greenville law firm. The firm offered legal services in several practice areas, including real property law. Most of my assignments involved searching titles and performing legal research on real property matters for Kenneth Hite, a skilled and respected Pitt County real property attorney. This introduction to the practical applications of the real property law being taught in law school was key to my decision to focus my practice on real property. After graduating from law school in 1976, I went to work as an associate with the same firm and was privileged to have Kenneth as my mentor and role model as I developed my real property practice.
Q: What career accomplishments are you most proud of and why?
Being in the first class of board certified specialists—it was very satisfying to be among the first North Carolina attorneys to be recognized as a specialist in an area of the practice.
Also, providing legal services to Pitt County and the City of Greenville for the flood buy-out program after Hurricane Floyd. So many people lost their homes and otherwise had their lives turned upside down as a result of that 500-year flood event. I was fortunate to be able to assist many of them with closing the sale of their damaged or destroyed homes to the county or city. My goal was to help the flood victims in some small way so they could have funds to build or purchase a home outside of flood prone areas.
Another accomplishment was performing the title work for the construction of the Pitt County Court House Addition. The tract of land for the addition consisted of several former residential and commercial lots, which eventually became a parking lot for the original court house in the 1920s and 1930s. Bond counsel for the addition project required a full 60-year title examination, necessitating searching titles of the various parcels that eventually became the parking lot. The title examination took several weeks to complete. The addition is directly across the street from my office and is a tangible reminder of the small part I played in its completion.
Finally, in the mid-1990s I was privileged to serve on the council of the Real Property Section of the NC Bar Association. Challenges to what had been understood to constitute the practice of law, particularly with regard to the residential real property practice, began to intensify. The Real Property Section looked to the council for recommendations on how to better educate the public on the importance of legal representation for their home purchase and mortgage transactions. Also during this period the section council was asked for input on the drafting of The Good Funds Settlement Act codified in Chapter 45A of the North Carolina General Statutes. To be able to exchange ideas on the challenges facing the residential real property practice with dedicated real property attorneys from across the state was one of the best experiences of my professional life.
Q: What motivated you to get certified as a specialist in real property law?
The more my practice focused on real property matters, the more convinced I became that attorneys should have the same opportunity to obtain certification in a specialty as physicians had enjoyed for decades. Specialization would enhance my ability to stay abreast of constant changes in the practice area. Also, my clients could regard my certification as some assurance that they were receiving the best possible representation for their closing or other real property matter. Once the specialization option became available, I decided to go for it.
Q: What's something that most people don't know about you?
Most people don't know that I love gadgets and gizmos. I'm a sucker for the latest cell phone, household tool, or automobile technology option. My latest acquisition is an ash vacuum cleaner I found for $29.99. It's great for cleaning a fireplace or fire pit without the fog of ashes and soot.
Q: What are your reflections on real property law now that you are stepping back from full-time practice?
Thanks for underscoring that I am not retiring from the practice, but rather I am practicing on a limited basis for the foreseeable future. I continue to work with the City of Greenville and Pitt County on certain legal matters as well as with some of my regular clients.
When I began practicing in 1976, the pace of title examinations and preparing for a closing was much slower. We didn't use computers or fax machines, and we had at least 30 days, from opening a file for a purchase or refinance to the closing. The closing package from the lender consisted of little more than a note, deed of trust, and title opinion form. The closing statement was prepared by the lender. Since that time, changes in lending regulations resulted in more complex closing instructions and shifted more of the paperwork burden to the closing attorney. The advent of the fax machine, widespread use of overnight delivery services, and in the last 25 years the computerization of offices and communications have challenged the attorney to do more in a shorter period of time without sacrificing adherence to professional standards and quality representation of the client. Just in the short period between 2010 and 2014 we saw a major amendment to the old HUD-1 form, and the advent of the Consumer Financial Protection Bureau and its elimination of the HUD-1 and the Truth in Lending Disclosure form through integration in the Closing Disclosure. During the same period we experienced the implementation of the American Land Title Association Best Practices. I am honored to know many real property attorneys from across the state who meet these challenges daily with professionalism and with the best interests of their clients in mind. North Carolina consumers are fortunate to live in an approved attorney state.
Q: What advice would you give to lawyers who are just beginning their career and want to practice real property law?
Don't think of the practice of residential real property law as an easy source of fees requiring little effort on the attorney's part. Your clients are paying your fee with the expectation that you will protect their interests, as is true for any practice area. Some of your clients may question why they need an attorney for their closings and what value are they getting for your fee. These questions particularly come from people relocating from areas where an attorney is not involved in the closing process. Educate them on what you do for your fee through an engagement letter prior to the closing, and by a professional delivery of your services from the title examination through the closing meeting. An attorney may concentrate in more than one area of the practice, but don't "dabble" in real property law just because you may want to help out a buddy or a family member, or because the office budget is a little tight that month. Real property law is complex and ever-changing. Anyone practicing in the field must keep up with those changes as well as be willing to invest in the ever-evolving technology required for maintaining the practice. Finally, remember that attorneys, as human beings, make mistakes. Don't schedule more closings per day than you can handle without sacrificing attention to detail and accuracy in providing your services. It is difficult to convince lenders, title insurance companies, and your clients of the value of your involvement in the process if you are regularly correcting errors for failing to follow closing instructions, missing something critical in the title search, or rerecording/reaffirming documents due to careless mistakes.
Q: Has specialization been good for the practice of real property law? If so, how?
Based on my experience, yes. No doubt I have attracted some clients because of my specialty being noted on the firm website and stationery, by word of mouth, or through recognition in the annual specialization directory. More importantly, I believe my status as a certified specialist in residential real estate law has reinforced the confidence of my clients that they have received the best quality service with the highest degree of professionalism. Being a certified specialist impressed on me the importance of staying current on any changes in the law and with technological innovations. I encourage those concentrating their practices in real estate law—either residential or commercial—to consider certification as a tangible way to underscore the benefits of attorney representation for residential closings and other real property matters.
Q: What are you happiest doing when you're not working?
Spending time with my children and grandchildren, reading anything from John Grisham novels to history, and traveling with my wife, Debby. To date Debby and I have seen much of the US and have traveled to 32 countries throughout Europe, North America, South America, and Africa. I plan all of our trips including flights, trains, hotels, and side excursions. Planning trips is my hobby like golf and fishing are for others.
Q: What are you looking forward to doing once your practice winds down?
More traveling! Debby and I would like to see more of the US, and we still have some places in Europe on our bucket list to visit. I am particularly proud that we have traveled to most of the micro countries in Europe including Vatican City, Luxembourg, Liechtenstein, and Monaco. We just need to visit Andorra and San Marino to round out the micro list.
Q: What would your colleagues say you're most passionate about?
My colleagues will say that once I undertake a commitment on behalf of my community, church, or profession, I will give it my all and see it to the end. As to the practice of real property law, I have voiced strong opinions on several issues facing the real property practice, including a challenge by the FTC to the North Carolina statutory definition of the practice of law, the incursions of LegalZoom and nonlawyers into the practice of law, the value of attorney involvement in the closing process, and the necessity for real property attorneys to observe the highest professional and ethical standards. My directness in most of those opinions has raised the angst of some of my colleagues at the State Bar and the NC Bar Association. They and others who know me know that I don't mince words. I'm a "cut to the chase" kind of guy. 
For more information on real property law specialists or to learn how to become certified, visit our website at nclawspecialists.gov.