Linda Johnson, Board Certified Specialist in Estate Planning and Probate Law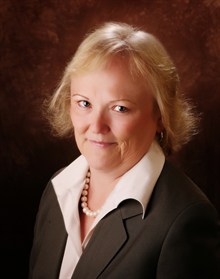 I recently had an opportunity to talk with Linda Johnson, a board certified specialist in estate planning and probate law, who practices with Senter, Stephenson, Johnson, PA, in Fuquay-Varina. Linda began her education as a business major at Fairfield University in Fairfield, Connecticut, completing a bachelor of science in business management with a minor in German. She received her law degree from Quinnipiac College School of Law. She is licensed in Connecticut, Hawaii, and North Carolina.
After graduating from law school, Linda worked in the tax departments of regional certified public accounting firms completing tax work for decedent's estates including, but not limited to, estate tax returns, estate and trust income tax returns, and final individual tax returns. She transitioned from corporate employment to private practice, joining the Aguirre Law Office in 1997. Becoming a certified specialist has helped her become a trusted resource for clients and other lawyers. Linda served two consecutive terms on the State Bar's Estate Planning Specialty Committee, chairing the committee for the last two years of her service. Her comments on her legal career and specialty certification follow below.
Q: Why did you pursue board certification with the State Bar?
As someone who has dedicated my legal career to estate planning and administration, it is very important for me professionally to know that I have educated myself to the top of my practice area. The specialty certification and its ongoing continuing legal education requirements enable me to achieve this goal.
Q: Has earning board certification been helpful to your career?
Yes, it has. Studying for and passing the estate planning and probate law certification exam, and meeting the on-going requirements to stay certified, assist me in staying on top of my game professionally and providing the most knowledgeable legal advice to my clients.
Q: How does your certification benefit the estate planning and probate process?
A specialist must learn and know the specifics as well as some of the more obscure points of law. Being that well educated in my practice areas allows me to draft documents in the planning process that improve the outcome during the administration process. Poorly drafted documents can add unnecessary complications and delays.
Q: Are there any hot topics in your specialty area right now?
Yes. We are waiting on information and decisions about possible exemption changes that can affect the advice we give to clients. We are also seeing changing recommendations for gifts and sales of property, transfer and protection of assets, and the use of trusts in order to take advantage of options in basis planning for income taxes.
Q: How do you stay current in your field?
I attend extensive CLE nationally through the University of Miami School of Law, the Hawaii Tax Institute, and the National Academy of Elder Law Attorneys. I most recently attended The American College of Trust and Estate Counsel (ACTEC) national meeting. I also attend several excellent programs locally through the Wake County Bar, the North Carolina Bar Association, and the Duke School of Law. I continue to teach courses on estate planning as well.
Q: How does specialization benefit the public?
The public is benefited by having the ability to obtain the services of a specialist, usually with very little difference in the cost. Clients benefit from the high caliber of work product.
Q: Are there any volunteer organizations or other groups with which you enjoy working?
Yes, I am active with the NC Bar Association as I just finished chairing the Estate Planning and Fiduciary Law Section, I was co-chair of the Legislative Committee, I still chair subcommittees of the Legislative Committee and co-chair the Ad Hoc Committee. I also serve as a Hospice volunteer attorney and co-chair the Grief Share program at my church.
Q: What was the best part about serving on the Estate Planning Specialty Committee?
I really enjoyed the in-depth educational experience in drafting and grading exams. I also appreciated the opportunity to make friends with the other committee members.
Q: What do you remember most about working on the exams, or attending the board retreat/annual luncheon?
I was always excited by the thrill of grading an exam and knowing that the candidate would pass by the quality of their answers. At the board retreats and annual luncheons, I always was impressed by how passionate all the attorneys are about improving the specialization system and all of the practice areas.
Q: How do you see the future of specialization/board certification?
I think it will continue to grow and expand to other practice areas.
Q: What would you say to encourage other lawyers to pursue certification?
It will improve your practice of law. You will be a better attorney. You will meet great attorneys in all practice areas. 
For more information on how to become certified, visit our website at nclawspecialists. gov.