Rebecca Redwine, Board Certified Specialist in Business Bankruptcy Law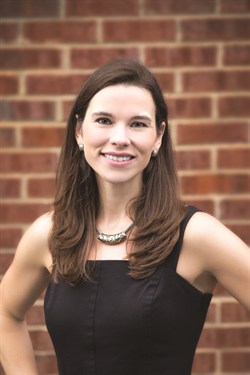 "Thank you counselor, and I mean that in both senses of the word."
A simple but poignant sentiment heard from a client that has resonated with Rebecca Redwine throughout her career and serves as one of the greatest compliments she received as an attorney. It is but one of the many compliments we can imagine she receives as a result of the intelligence and compassion she brings to her clients and her practice.
I had the honor of meeting Redwine when she sat for the business bankruptcy law exam in 2018, and even in a room full of nervous examinees, Redwine appeared calm and ready for the challenge. She passed the exam and became a business bankruptcy law specialist in February 2019.
Redwine grew up in Oxford, North Carolina, and graduated from the University of North Carolina School of Law. She began her career as an associate with the family law firm of Gailor Wallis Hunt in Raleigh. From there, she joined Everett Gaskins Hancock & Stevens as a bankruptcy associate. In 2010 she moved to Hendren & Malone, PLLC, which became Hendren, Redwine & Malone when she became a partner in 2016.
Q: What advice would you give to lawyers who are just beginning their career and want to practice bankruptcy law?
First, appreciate that we have a very collegial and professional Bar, and it is full of kind people who are willing to help those who are learning. Second, always introduce yourself. Third, the Hardee's across from the Greensboro courthouse will tow your car.
Q: What career accomplishments are you most proud of and why?
I am most motivated when I see that what we do makes a difference in the lives of our clients. My most memorable case was a Chapter 11 debtor that was a large trucking and towing operation, crippled by tax debt and subprime loans, with debt exceeding $4.4 million. The principal was a young widow, left to deal with the untimely death of her husband and the financial crisis of their business. Ultimately, the company restructured and emerged from Chapter 11 with a consensual plan involving 15 classes. That was a really great day.
Q: What's the most rewarding professional activity that you have been a part of?
I am a council member of the North Carolina Bar Association Bankruptcy Council, but I'm also the Pro Bono Committee Co-Chair. In 2015, in an effort to inspire our section members, we created an award recognizing outstanding pro bono service. This will be the fifth year we will honor one of our section members with the NC Bar Association Bankruptcy Law Section Outstanding Achievement Pro Bono Award during the statewide meeting at the NCBA Annual Bankruptcy Institute. I have to say, reviewing the nominations of such inspiring people and presenting this particular award certainly counts as a great day in the world of being an attorney.
Q: What motivated you to get certified as a specialist in bankruptcy law?
Honestly, it was my fellow members of the North Carolina Bankruptcy Bar. I believe we have some of the best bankruptcy attorneys in the nation and it was inspiring to see so many specialists in our state. I had several members of our Bar encourage me and reach out to ask when I was going to take the exam. There's nothing like peer pressure to make you sign up for something. However, seeing the successful careers of those I respect was the biggest motivator.
Q: Do you feel specialization has been good for the practice of bankruptcy law?
Yes, primarily as a networking referral source. There have been several instances over the past few years where I needed to refer a matter or piece of litigation to out-of-state counsel. If I do not have any contacts in the area, my first search begins with that state's specialist list.
Q: What would you say to a lawyer who is considering applying to become a North Carolina board certified specialist?
Go for it. There's no downside and the encouragement you will receive from your peers is unmatched. And there's a large group of us who will take you out after you pass to celebrate.
Q: What are you happiest doing?
Sitting on a porch with our friends and a cold drink, listening to music, and watching my boys, Finch (5) and Whitford (3), play in the backyard.
Q: What's something that most people don't know about you?
I know the official state toast, I've sung on stage with Smokey Robinson, and I usually wake up at 5 AM.
Q: What would your colleagues say you're most passionate about?
Eating lunch.
Q: What is your favorite food?
BLT on wheat bread with Duke's mayonnaise.