April 2018 Newsletter
Three Attorneys Honored with Specialization Awards 
The Board of Legal Specialization established the service and recognition awards in 2006, naming the awards for Howard Gum, Sara Davis, and Jim Cross, three lawyers who were instrumental to the establishment and maintenance of the standards for what is recognized as one of the most successful legal specialization programs in the country..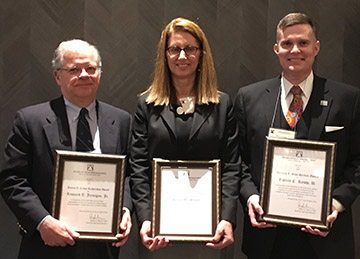 Jim attended the Annual Luncheon on Friday, April 6, 2018, and presented the awards to three board certified specialists who were nominated by their peers to receive a service or recognition award.
The Howard L. Gum Service Award
The 2018 Howard L. Gum Service Award was presented to Criminal Law Specialist Robert"Bert" Kemp.
The Howard L. Gum Service Award is given to a specialty committee member who consistently excels in completing committee tasks. The recipient must be highly dedicated to legal specialization, donate his/her time to committee responsibilities, and respond to the needs of the State Bar staff and the board in an exemplary fashion.
Bert has chaired the Criminal Law Specialty Committee since 2015. He has exemplified fair and dedicated leadership as the committee chair. Bert's nominator states that, "Bert displays a keen insight into the policies affecting North Carolina law and the people who are involved in affecting those decisions and policies. Bert's life displays a commitment to public service and upholding the rights of others, serving as an officer in the North Carolina National Guard's JAG Corps (including active deployment to combat zones), serving as past president of both the Pitt County Bar Association and Judicial District 3A Bar, being a member of the North Carolina Courts Commission, and serving as the public defender for Pitt County. There is no better example of dedication, service, and leadership on the criminal law specialty committee than that of Bert Kemp."
The James E. Cross Jr. Leadership Award
The 2018 James E. Cross Jr. Leadership Award was presented to Workers' Compensation Law Specialist Leonard "Lennie" Jernigan.
The James E. Cross Jr. Leadership Award is presented to a certified specialist who has taken an active leadership role in his/her specialty practice area through presentations at CLE seminars, scholarly writings, participation in groundbreaking cases, or service to an established professional organization.
Lennie has been a workers' compensation law specialist since 2001 and has represented injured workers for more than 40 years. He is the author of NC Workers' Compensation – Law and Practice, widely recognized as the authoritative text on the subject. Lennie is also past president and one of the founding lawyers of the Workers' Injury Law and Advocacy Group (WILG), and a member of the Workers' Compensation Panel of Attorneys for the National Football League Players' Association. Lennie's nominator reports that he is widely respected for his knowledge of and dedication to workers' compensation law in North Carolina. 
The Sara H. Davis Excellence Award
The 2018 Sara H. Davis Excellence Award was presented to Family Law Specialist Rose Stout.
The Sara H. Davis Excellence Award is presented to a certified specialist who exemplifies excellence in his/her daily work as a lawyer and serves as a model for other lawyers. Special consideration is given for a long and consistent record of handling challenging matters successfully, sharing knowledge and experience with other lawyers, earning the respect and admiration of others with whom the lawyer comes into contact in his/her daily work, and high ethical standards.
Rose has more than 25 years of experience as a diligent and caring family lawyer, earning respect for her honesty and integrity from clients, colleagues, and judges. Rose's nominator points out that, "Rose is an exceptional professional. She works tirelessly for her clients, and knows how to fairly settle cases, but will also litigate when necessary. Rose has a broad base of knowledge and experience including tax and retirement issues, valuing complex assets and businesses, support obligations and cash flow, custody and psychological issues, and much more. Rose is an accomplished professional in all of these areas." She certainly serves as a model for other lawyers and we are grateful for her long-standing dedication to specialization in North Carolina.
Congratulations to Bert, Lennie, and Rose.
Spotlight: H. Alec Carpenter
New Board Certified Specialist in Criminal Law
What led you to become a lawyer?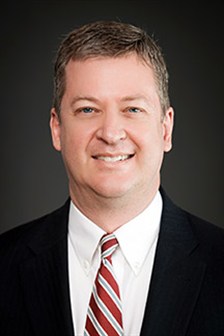 When I thought about a career, I wanted to do something challenging. I had an interest in law prior to entering college. At UNC-CH I was a political science major, and my courses there reaffirmed my interest in going to law school and becoming a lawyer. My father always told me to try to get a job where you can be your own boss. Getting a JD has allowed me to do that. Plus, I hated science classes, so anything medical was out of the question.
What made you decide to pursue certification?
I enjoy defending people accused of crimes and have always wanted to become certified. I thought preparing for the exam would be worthwhile and benefit me in my day to day practice. While running your own firm, it is not easy to find time to review everything you need to for the exam. However, while difficult to do, I found the process of preparing rewarding because it forced me to look deeper into all the areas I deal with for work on a daily basis.
What's the best thing about recently achieving that goal?
The exam was quite difficult and there is a lot of material you are responsible for being able to apply. To successfully prepare and pass the exam is a great feeling and a relief, and being certified is validation of the hard work that went into preparing for it.
What is it like to practice criminal defense in Greensboro?
Most of the time I enjoy doing my job. I find it very rewarding to help people who are facing criminal charges that could affect their jobs, family, or freedom. Through my practice I have had the privilege of getting to know so many good people and their families as we work through their cases. Of course, in a criminal practice you are dealing with some clients that have mental health issues, substance abuse problems, or are just not very nice people. On those days that I am dealing with a difficult client, my job is not as enjoyable.
What activities/volunteer groups are you involved in?
I have been active in volunteering for the Guilford County School System. I served as the head for the Men's Initiative at Jones Elementary School for two years where we tried to get dads and father figures more involved in the school life of their children. I assisted children before school to help strengthen their reading skills. I have also volunteered with Greensboro United Soccer Association. I served as the manager for a youth soccer team where I was responsible for all the logistics for the team.
Who is your role model and why?
My father. I was lucky to have a parent who was always there for me and always acted with my best interests in mind. Through highs and lows in life, my father always did the "right thing" and never took short cuts. He always tried to see the best in people. I try to be like him, and try to pass on what he taught me to my children.
Honoring 25 and 30 Year Specialists
The State Bar's specialization program has been certifying lawyers since 1987, and reached the 30 year milestone last year. During that time over 1,000 NC lawyers have earned the designation of "Board Certified Specialist." Below is a list of lawyers who have been certified for 25 and 30 years. Please congratulate them on this impressive accomplishment.
25-Year Honorees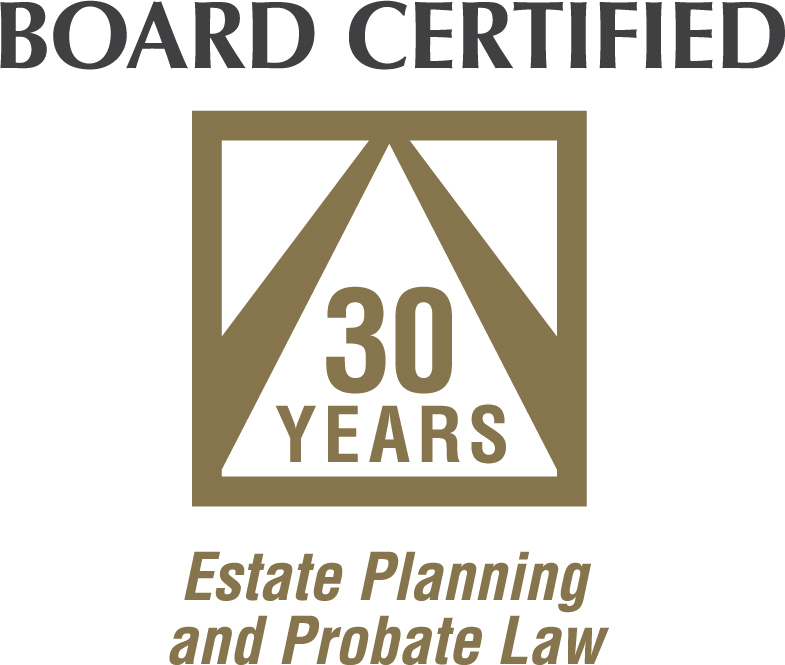 The following specialists were certified in 1993 and have consistently met the standards for certification for 25 years.
Bankruptcy Law
  James B. Angell, Raleigh
  William E. Brewer Jr., Raleigh
  James H. Henderson, Charlotte
  Cindy G. Oliver, Raleigh
Criminal Law
  Terry W. Alford, Spring Hope
  Robert H. Edmunds Jr., Greensboro
  Mark E. Edwards, Durham
  David B. Freedman, Winston-Salem
  J. Matthew Martin, Asheville
  Roy D. Neill, Hendersonville
  Carl F. Parrish, Raleigh
  Mark A. Ward, Greenville
Estate and Probate Law
  R. Walton Davis III, Black Mountain  
  John H. Griffing, Gastonia
  Marcus Hudson, Chapel Hill
  Richard E. Marsh Jr., Charlotte
Family Law
  Dallas C. Clark Jr., Greenville
  Michael W. Drye, Asheville
  Robert L. Inge, Salisbury
  William W. Jordan, Greensboro
  Robert A. Ponton Jr., Raleigh
  Debra J. Radtke, Fayetteville
  Donna A. Rice, Chapel Hill
30-Year Honorees
The following specialists were certified in 1988 and have consistently met the standards for certification for 30 years.
Bankruptcy Law
  John H. Small, Raleigh
Estate Planning and Probate Law
  David R. Frankstone, Chapel Hill
  Cowles Liipfert, Winston-Salem
  Doris P. Loomis, Asheville
  Edward E. Raymer Jr., Winston-Salem
Real Property Law
  Donald M. VonCannon, Winston-Salem
Real Property
  Charles A. Reinhardt Jr., Durham
  Philip E. Searcy, Winston-Salem
  Terry M. Taylor, Hickory