September 2017 Newsletter
The Balance of Power: Solar and Wind vie for Legislative Support 
By Peter Ledford, board certified specialist in utilities law and general counsel, NC Sustainable Energy Association
Passed by the General Assembly on June 30 and signed into law by the Governor Roy Cooper on July 27, House Bill 589 (S.L. 2017-192), entitled "Competitive Energy Solutions for NC," makes sweeping changes to North Carolina's laws governing renewable energy.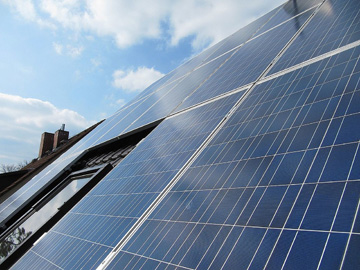 House Bill 589 makes changes to how utility scale renewable energy resources are procured in North Carolina. Much of North Carolina's utility scale solar development has occurred pursuant to the Public Utility Regulatory Policy Act of 1978 (PURPA) which, among other things, requires utilities to purchase electricity from independent power producers, including non-utility solar installations. PURPA's mandatory purchase obligation is implemented at the state level, and the North Carolina Utilities Commission has historically implemented its provisions in a manner that is conducive to independent power producers. House Bill 589 maintains a PURPA market for small independent power producers under 1 megawatt in size, and creates an alternative market that utilizes a competitive solicitation process for larger projects.
House Bill 589's competitive solicitation process requires Duke Energy to procure 2,660 megawatts of renewable energy in its service territory over a 45-month period beginning in 2018. Key provisions include the use of an independent evaluator to consider bid proposals, 20-year contracts for independent power producers, and the ability for Duke Energy to compete in the process. Projects procured through the competitive solicitation market will also allow Duke Energy greater rights to dispatch their energy generation, helping to better integrate renewable energy into the grid. The legislation also includes a grandfathering provision for PURPA projects that have already been proposed but not completed, which guarantees that North Carolina will reach 3,500 megawatts of solar in Duke Energy's service territory pursuant to PURPA, up from the current amount of approximately 1,920 megawatts.
House Bill 589 also makes changes designed to improve consumer access to clean energy. First, the legislation formally allows leasing of solar facilities in Duke Energy's territory, which allows consumers to obtain the benefits of solar adoption without the need for an upfront capital expenditure. The legislation also directs Duke Energy to create a community solar program, which would allow consumers to purchase a portion of a solar facility and receive a bill credit for the electricity generated by their portion. Duke Energy is also directed to create a rebate program for customer-sited solar generation.
For large consumers, the legislation also directs the creation of a new renewable energy tariff, which will enable these consumers to procure renewable energy through Duke Energy. Consumers will pay the cost of the renewable energy procured by Duke Energy and will receive a bill credit for the costs that Duke Energy avoids by not generating the energy with their own resources. The tariff allows for 600 megawatts of participation over five years, with set-asides of up to 100 megawatts for military installations and 250 megawatts for the University of North Carolina system. If any of the 600 megawatts are not procured at the end of the five-year period, the volume will be added to the competitive solicitation process.
House Bill 589 also directs two investigations. First, the legislation directs an examination net metering, which is the policy that allows customer-sited generation facilities to receive a bill credit at the full retail rate—instead of a wholesale rate— for electricity that they export to the grid. The examination will consider the costs and benefits that customer-sited generation provides to the electric grid to ensure that the practice does not create cross-subsidization between participating and non-participating customers. Second, the legislation directs the North Carolina Policy Collaboratory at the University of North Carolina to study the values that energy storage could provide to North Carolina's electric grid. This study could produce the first empirical data about the benefits that energy storage can provide to North Carolina, not only for integrating renewable energy, but also for ensuring reliable electric service.
Perhaps most controversially, House Bill 589 adopts a moratorium on the issuance of permits for the construction of wind energy facilities until January 1, 2019. However, on the same day that he signed House Bill 589 into law, the governor also issued Executive Order 11, which directs state agencies to continue processing permits for wind energy facilities. The legislation also directs the development of maps to identify where wind energy infrastructure "poses a threat to, encroaches upon, or otherwise reduces [military] operations, training capabilities, or readiness."
House Bill 589 also makes two changes to how utilities recover costs. First, the legislation allows utilities to recover costs for electricity purchased from independent power producers on an annual basis. Second, the legislation changes how utilities recover costs for complying with the Renewable Energy and Energy Efficiency Portfolio Standard, which includes caps on the amount that utilities can recover annually from each customer. House Bill 589 changes the cost cap for residential customers, reducing it from $34 per year to $27 per year.
Other provisions in the legislation direct the Utilities Commission to adopt an expedited review process for the interconnection of poultry and swine waste-to-energy generation projects to the grid; direct the Department of Public Safety to enroll in utility programs to reduce load; and adopt updated charges and fees for filings at the Utilities Commission.
Spotlight on Jennifer Scott, Residential Real Property Specialist in the growing town of Pittsboro
What is most challenging about your work?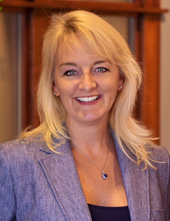 The things that challenge me most are the administrative tasks that come along with the practice of law. I tend to really connect with my clients because I have overcome previous challenges (learning what cases to take and what types of clients or matters to avoid), but I still have to get those billable hours down, review invoices, and assist our partner team with planning and staffing. Oh, and making sure I get it all done while serving as team mom and chauffer extraordinaire to four kids ages 12-15 is also a challenge! I look forward to one of them getting a license.
What is fun about your work?
I enjoy being "general counsel" to my clients. Developers, contractors, and real estate professionals tend to be loyal if you are straight with them, and I like these on-going relationships. I like knowing about all aspects of their business, life, investments, and goals so that when they have an issue, I have an answer. I love being a part of my clients' successes and knowing that they trust my counsel when the road is rough.
What led you to become a lawyer?
Like many opinionated, strong willed little girls, I was often told I would probably be a lawyer when I grew up. I didn't even know what that meant! I met Donna Lefebvre, a political science professor in undergrad at UNC-CH, who recommended that I apply to law schools. I suppose she recognized something of an analyzer in me and liked my ability to express myself. She was so generous and always took the time to evaluate a student and offer advice. I then went to talk with Dottie Bernholz (female lawyer extraordinaire) who was also my undergrad advisor, and the rest is history.
What made you decide to pursue certification? 
I always wanted to be one of those people who never stops learning. I hate a rut. So, as soon as I had the experience under my belt, I pursued certification. Certification has served as a great way to distinguish myself and highlight my expertise for colleagues and clients.
What is it like to work with clients seeking assistance with real property issues in a growing area like Pittsboro?
It's busy! I work in the Raleigh and Wilmington markets also and have fun addressing the different types of dirt law issues in each market. Chatham County is undergoing unprecedented development, and frankly, it is great to see something as massive as Chatham Park take shape in such an otherwise raw landscape. While not specifically involved in the project, the collateral work for many of my clients is a welcome change from the last few years. I love to see folks attracted to our state and invigorated by the projects here.
What activities/volunteer groups are you involved in?
I have enjoyed a number of public service opportunities from Chamber of Commerce, Rotary Club, and Chatham County Planning Board to the North Carolina Parks and Recreation Trust Fund and Research Triangle Regional Partnership, but most recently have taken an appointment to the NC State Banking Commission. Along with being cheer mom to soccer, softball, basketball, and baseball teams seasonally, I commit myself to spin class and total body conditioning at least four times a week. I always take time to chaperone field trips and travel with my kids, too. I find this has been key to my balance in the recent past.
Who is your role model and why?
I have two role models. My mother is the first. She always worked outside the home and kept up with all her mom duties. I think I would collapse some days if I did not have her unending energy as an example of how to do it all and stay sane. My partner, Gary Shipman, is the other. I am consistently amazed at his passion and clarity in all things legal. He is my "go to" when cynicism takes hold of my mood, and he makes me strive to be a better warrior advocate every day for every client. 
It's Exam Time!
The specialization exams will be held in both Raleigh and Charlotte this year, on several dates in October and early November. If you see colleagues who are studying, please encourage them to contact the exam mentors and to use the exam guide information available online. We look forward to congratulating new specialists in November!