August 2019 Newsletter
SPOTLIGHT: MATTHEW J. LADENHEIM
Board Certified Specialist in Trademark Law and Newly Appointed to the Board of Legal Specialization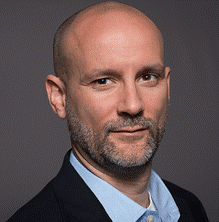 The newest member of the Board of Legal Specialization, Matthew J. Ladenheim, has been a specialist in trademark law since 2013. Located in Charlotte, Matthew's practice, Trego, Hines & Ladenheim PLLC, focuses on trademark prosecution and general intellectual property litigation.
Matthew was instrumental in spearheading the creation of the trademark law specialty and chaired that committee for the first four years. This experience will be an asset to the Board of Legal Specialization during his service. 
Matthew has an active trademark prosecution practice. He conducts availability searches, prosecutes applications, and maintains portfolios. Additionally, he represents litigants in intellectual property cases in federal court and before the Trademark Trial and Appeal Board. In addition to his trademark prosecution practice, he is also a North Carolina Dispute Resolution Commission (NCDRC) Superior Court Mediator.
Matthew obtained a bachelor of arts from the University of Mary Washington and a Juris Doctor from the Pennsylvania State University Dickinson School of Law. Matthew was honored for his service to the Trademark Law Committee by being awarded the Howard L. Gum Service Award by the North Carolina State Bar Board of Legal Specialization in 2014.
You can find more information on Matthew and his practice online.
(Information for this article is cited from https://thlip.com/matthew-ladenheim/)
RECERTIFICATION UPDATE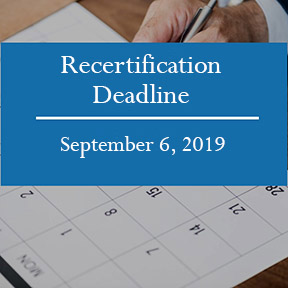 Specialists that were initially certified or last applied for certification in 2014 will need to apply for recertification this year. A completed application is considered timely filled if the application is delivered to the offices of the North Carolina State Bar before 5 PM on September 6, 2019, or is postmarked no later than September 6, 2019. Late applications received or postmarked between September 7, 2019, and January 3, 2020, will be accepted with an additional $250 late filing fee. Applications received after January 3, 2020, will not be accepted.
A recent amendment to the Minimum Standards for Continued Certification of Specialists (27 N.C. Admin. Code 1D.1721(a)(5)) has reduced the number of peer references required for recertification. Under the amended rule, each recertification applicant will only be required to submit six references in support of his or her application. Please also check your specialty's standards for any additional requirements regarding recertification, including peer reference eligibility.