January 2018 Newsletter
Privacy and Information Security Specialty to Launch in 2018 
Karin M. McGinnis is a lawyer at the forefront of a changing legal landscape. She's among a select group of North Carolina lawyers recognized as a Certified Information Privacy Professional by the International Association of Privacy Professionals (IAPP), and is also serving on the State Bar specialty committee working to launch the new certification this year.
The NC certification will build on the IAPP program and allow for a greater focus on state legislation and interpretation of international law. Rapidly evolving laws affect many NC companies, particularly those in specialized fields like pharmaceuticals and sustainable energy. As technology advances, these companies face big challenges in protecting their corporate and employee data.
Lawyers who are able to assist clients in successfully navigating these rapidly changing situations are in high demand. This new specialty certification will help clients locate qualified counsel, and also provide our current board certified specialists with referral options when the need arises.
Does a lawyer need to be technologically proficient to practice in this specialty area? "No, but it helps –especially a good understanding of the basics of computer networks, web hosting, and similar technology." Karin McGinnis practices in Charlotte at Moore and Van Allen.
For additional information on the program requirements, read the certification standards. Applications will be accepted beginning May 1.
Spotlight: Caitlin N. Horne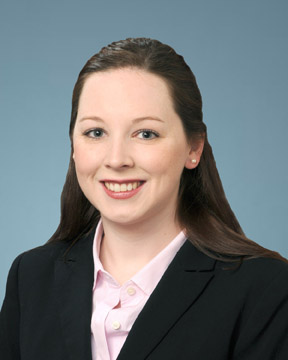 New Board Certified Specialist in Estate Planning and Probate Law, Charlotte, NC
What led you to become a lawyer?
I worked for a lawyer in my hometown of Bennettsville, South Carolina, during high school and college. It was a small shop that did a little bit of everything, but my favorite projects were those that involved estate planning and estate administration. I have a business degree and took several tax classes during college, which I also enjoyed. I was deciding between an MBA and a JD, and ultimately law school won out. I went into law school knowing I wanted to practice in the trusts and estates area. After law school I went to Georgetown for my LLM in tax. I graduated from Georgetown and started working at Moore & Van Allen, and have been here ever since.
What made you decide to pursue certification?
I am always looking for new opportunities to learn and grow in my practice. It was also highly encouraged by my mentors in the firm.
What's the best thing about recently achieving that goal? 
I don't have to take the exam again! All joking aside, it is very gratifying to have passed the exam, especially so early in my practice, and I am thrilled to be included in such an impressive group of colleagues.
What is it like to work with clients seeking assistance with estate planning issues in Charlotte?
My favorite part of my practice is helping clients solve problems in a way that helps them. I am fortunate to be working for a firm with great clients who present very sophisticated issues to us on a regular basis. I am also licensed in South Carolina, so I represent clients throughout both states. I love working with families and getting to know my clients on a personal level.
What activities/volunteer groups are you involved in?
I am currently the co-chair of the CLE Committee for the Estate Planning and Fiduciary Law Section of the North Carolina Bar Association, and we are working hard to put together the program for our annual meeting in July. I am also the vice-vhair of the Estate Planning and Administration for Business Owners Committee of the ABA Real Property, Trust & Estate Section, and will be speaking on a panel at the Spring Symposia in May. Outside of professional activities, I have two young boys, Jack (2.5) and Haines (10 months), and I spend most of my free time chasing them around with my husband, John, and our Labradoodle, Barley.
Notes from the Bar - Submit Exam Questions
Have you handled an interesting case lately? Could you write the situation as an exam question? 
Our specialtycommittees are always looking for good, relevant topics to include on the specialty exams. Please submit your questions—multiple choice, short answer, or essay—INCLUDING the proposed answer key, to Denise: dmullen@ncbar.gov by May 1, 2018.