February 2019 Newsletter
Should Other Lawyers Use "Specialist" and "Specialize"?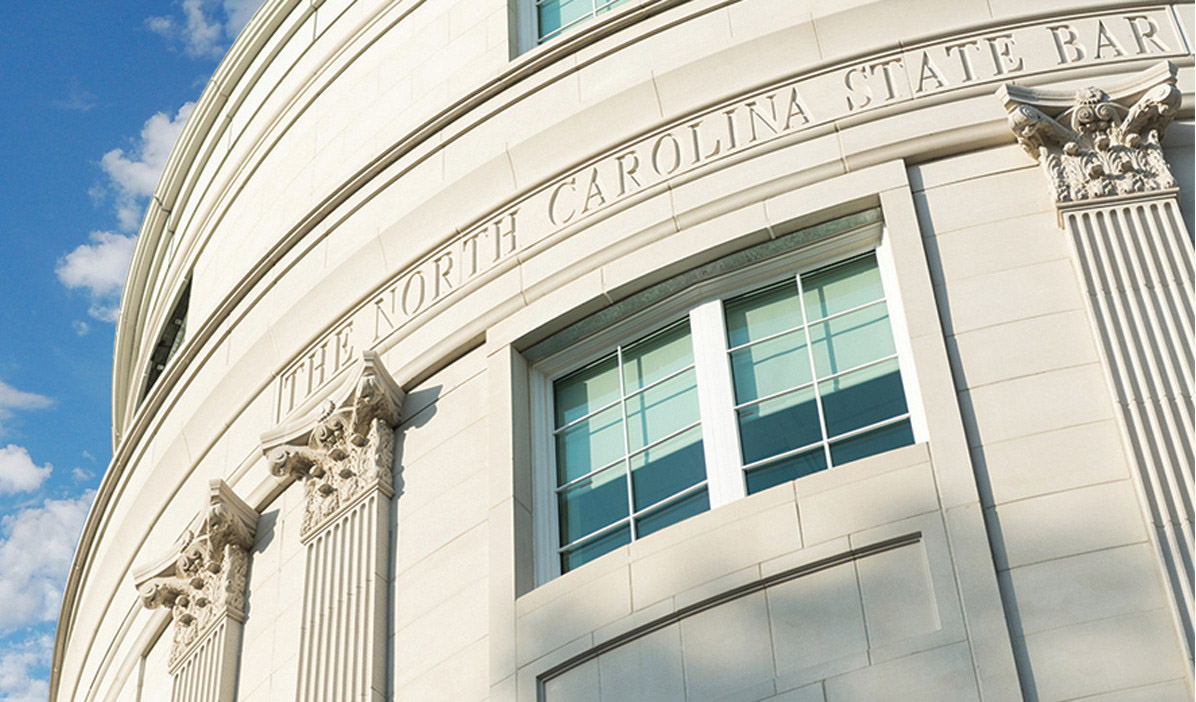 Last month, a committee of the State Bar Council voted to recommend preserving North Carolina's advertising rule regarding certified specialists. The committee received over 80 emails from individuals and groups in support of preserving North Carolina's protection of the terms "specialist" and "specialize." Most, if not all, of that overwhelming response from our specialists was a result of our request that you step out and notify the committee of your thoughts. I reviewed a number of your responses, and some of them were quite powerful. Your responses no doubt played a great part in the committee's ultimate decision. 
That meeting was simply the first step. The issue is not yet resolved. Once the committee studying the ABA's Model Rule amendments completes its work, they will issue a report containing their recommendations to the State Bar Council. From there, the State Bar Council will vote on any proposed amendments to the North Carolina Rules of Professional Conduct, and the council's proposed rule amendments will need to be reviewed and approved by the Supreme Court of North Carolina before becoming final. All of that is to say, there remains a long road ahead, but last month's vote was a significant and positive step forward for the public and the program.  
Please continue to monitor this issue through the State Bar's publications over the next year.  All proposed rule amendments will be published to the profession for comment before any final votes are taken, thereby providing specialists with yet another opportunity to voice their opinion. When the time comes, I strongly encourage you all to take the time to email your State Bar representative or a member of the State Bar staff with your support for continuing North Carolina's important protection of the terms "specialist" and "specialize" for the public's benefit. We've learned that your input DOES count. As board certified specialists, you constitute perhaps one of the most influential groups in the North Carolina State Bar, and you are likely well known in your communities. As such you will be listened to.
Thank you once again for your prompt and substantial response, and for your continued support of and participation in our program. 
Bob Mason, Chair
Board of Legal Specialization
Spotlight: Erin J. Illman
Board Certified Specialist in Privacy and Information Security Law
What led you to become a lawyer?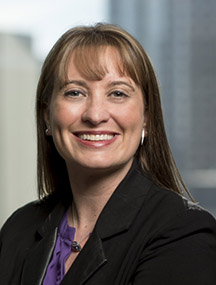 Through luck and curiosity, I "fell into" law. Growing up I had little exposure to lawyers or legal careers—I am the first lawyer in my family. After college I wanted to further my education and started to consider law school. Prior to applying for law school, I worked in a law office to see what being a lawyer would look like. I have always been fascinated with learning new things and I was intrigued with the variety of careers that lawyers have. I was hooked, and it turned out to be a great fit for me.
What made you decide to pursue certification? 
I have practiced in the area of privacy, data security, and emerging technologies for several years. As businesses became more data driven and reliant on connected devices, I watched the practice area evolve from a small niche to a widespread, cross-industry legal issue. When I learned that North Carolina was offering specialization in my area of practice, I set a personal and professional goal to achieve the certification.
What's the best thing about achieving that goal? 
Being one of the first lawyers in North Carolina—and in the nation (no other state offers this specialization)—to obtain this certification is an incredible honor and relief. The exam covers a lot of material and required a good deal of preparation. It is extremely gratifying to receive recognition of expertise in an area of law about which I am so passionate.
What is it like to work with clients seeking assistance with privacy law issues in Charlotte?
After practicing in San Francisco for a decade, I moved back home to North Carolina about four years ago. Given the nature of privacy and data security work, I assist clients all over, not just in Charlotte or even in the state of North Carolina. Charlotte is a great place to both live and work, and it has a vibrant emerging business, technology, and Fintech community. Working in Charlotte allows me to experience a wide variety of privacy and data security issues, and allows me easy access to clients across the country.
In what activities/volunteer groups are you involved?
I am an active member of the Privacy and Data Security Committee of the North Carolina State Bar and the incoming chair of the Law and Society Committee of the Mecklenburg County Bar. I am on the alumni committee for Leadership Charlotte, a member of the Cyberspace Law Group of the ABA, I serve as chair of Bradley's Privacy and Cybersecurity Team, and often speak at seminars and publish frequently on privacy and data security issues. I volunteer as a mentor with QC Fintech, and I am the chair of the Charlotte-Mecklenburg Food Policy Council, which advocates for policies that build a sustainable, equitable, and healthy local food system. And most importantly, I am the proud mother of three young children (2, 5, and 7) who keep me on my toes.
What do you want non-privacy law attorneys to know about what you do?
Privacy lawyers work in a variety of capacities—from handling regulatory compliance matters to corporate transactions to litigation—and everything in between. With cybersecurity and data breach issues in the news daily, privacy is an issue that affects our clients' businesses in various ways and impacts almost all aspects of legal practice. Additionally, privacy law is constantly evolving, which can make legal interpretation challenging; however, it also gives privacy lawyers the opportunity to utilize their analytical thinking and problem-solving skills, often coming up with creative solutions to address clients' business needs.
Specialist Directory Makes Useful Referral Tool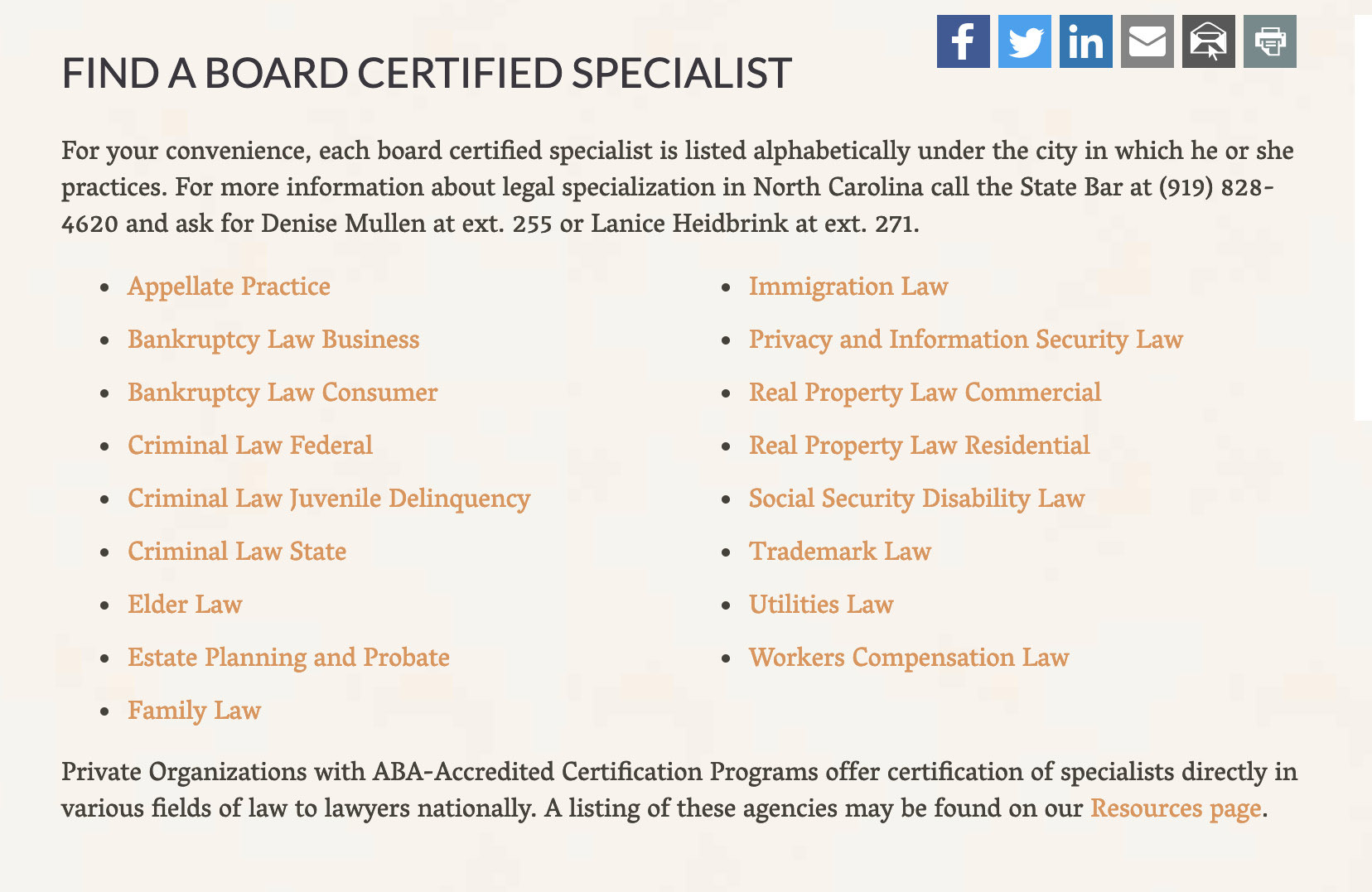 Did you know there is an easy way to recommend another North Carolina Board Certified Specialist? Our directory of specialists enables you to search and find lawyers by a practice area or city. Best of all, you can share their contact information with the click of a button. To do so, click the lawyer's name, then click on one of the share buttons to the right (Facebook, Twitter, email, etc.). The recipient will see a link to that lawyer's page in our directory.  
When someone contacts you for an area of law in which you do not practice, use this share feature to recommend a fellow specialist. Working together, we can raise the public's awareness of specialty certification for lawyers.